Guest Poster: Annika Hansen
Things are going pretty well here at Unimatrix Zero.
The place is an idyllic realm where Borg who possess the recessive gene can subconsiously go when the drones are regenerating in their alcoves. Naturally, the drones have no memory of it all when they wake up.
Seven Of Nine would blow a circuit if she knew that me, her true self, exists in this place. The Borg Queen wouldn't be too happy about it, either. Though she hunts those who have them, she has no idea that one of her favourite drones, whom she placed on the
Enterprise
has time off here!
That always makes me smile.
I must admit, though, I'm getting tired of Axum, my lover for a while. He is always preaching about how it will all end, soon, and the Borg Queen will get us all. He's a right scaremongerer and party pooper. Let's enjoy it all.
I've been doing that since I was a little girl and captured on the
USS Raven
.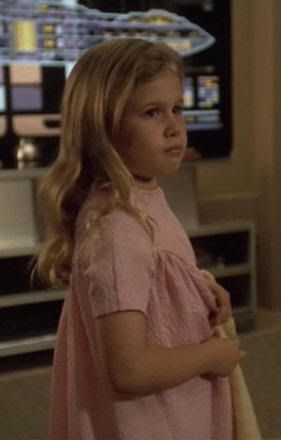 However, the tone of the Unimatrix Zero neighbourhood has gone down somewhat, lately. A family of recently assimilated Klingons have moved in. They are
SO
noisy. All night long they sing of Klingon victory songs and tell of old battles. When I go round to complain, I get an earful of Klingon profanity and abuse.
I'll be glad when some more humans are assimilated.
I've told Axum I want to move to a quieter neighbourhood, but he is all 'community, harmony and friendship'. I don't mind that as well, but I haven't slept in two days because of the noise. I must know every Klingon battle song there is by now.
Axum also tells me he can't move now because the local golf club is considering him for membership. he says he has been on the waiting list for five years, and that if we move now, he will have lost his chance.
Incidentally, I hate golf. If any dishy male humans get assimilated, Axum will be out. Actually, I think he'll be out anyway!
In the Unimatrix Zero Women's Institute, I managed to get First Prize with my Upside Down Cake. Naturally, Axum wanted a slice of it, but was quite put out when he found that me and the girls had already scoffed it!
Serves him right for going out for golfing practice.
I must admit, though, I am getting suspicious; Axum's afternoons at golfing practice seem to coincide with the times that the female Bajoran Vi Toran goes on her trips to the local stream.
His golf isn't getting better, but he does return with a smile.
Ah, well; it's time to get the earplugs out. I can hear another Klingon song about to start.