As we cruise through space, Deanna comes running on to the Bridge, screaming.
"Help." she says frantically, "I've been attacked by bugs."
"Mr Data." I tell him immediately, "Have any spaceships been seen in the area?"
"No, Captain." he replies, "They may be using a cloaking device of some sort. The Counselor is lucky to get away from hostile aliens."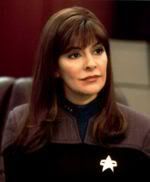 "Captain!" Deanna says with exasperation, "They are not aliens, but just plain bugs on the ship. They were all over the floor in my quarters, and even more in the corridors on the way here."
"Of course." continues Data, still with his alien invader chip still running, "They could be attempting to communicate with us. We may have a First Contact situation, Captain."
"Listen, Data." I tell him with a sigh, "They are bugs, plain and simple. The ship needs to be fumigated."
Data mumbles something about lifeforms and contacts the nearest starbase with a fumigator.
-----------
At Starbase 14, a figure beams over.
"Hello." I tell him, "Thank you for coming. I'm Captain Jean-Luc Picard. I'll take you through the ship."
"Hmmhhmhh" replies the figure, "Heffeessalawww."
"Sorry?" I ask, "I didn't hear what you said."
"Sirrrdassssa" he answers. The uniform is clearly to thick to hear anything with.
The figure is carrying a giant can on his back, plus a spray gun attached it. Suddenly I see the problem.
"Everyone will evacuate to the escape pods and remain there until the fumigation is over." I announce over the intercom.
I see the figure spraying away as he walks through the corridors. crewmen, running towards the escape pods cough as they go past.
An hour later, as I sit in the escape pod, I get a tap on the window.
"Mmmwehana" he says.
"I still can't hear you." I reply.
The figure takes off his hood. I can see that it's Sid, the man we always seem to get to fix problems on the ship. He has such a 20th century view of things.
"The bugs have gone, now, mate." he tells me, "This industrial strength bug remover will ensure they don't come back for a long time. You must have beamed a few up on one of your Away missions."
"Is the spray safe, Sid." I ask.
"Not if you're a bug, mate." he replies, "Har, har, har! Well it might give you a few orange blotches for a day or so, but aside from that, it's harmless."
Why is it Sid's sense of humour and style scares me so much?
-------------------
Author's note:


You can see an interview with myself at
Blog Interviewer.Com
While you are there, you can vote for your favourite blog for the month (cough, cough!)