The
Enterprise
is on it's way to the amazonian planet of Wondawowman.
We have Wesley Crusher on board and his fiancee Karena. His mother Beverly is going to have a talk with her mother Queen Diana about the impending marriage that Wes seems to have got himself locked into.
Honestly. You would think we were running a marriage agency, not explorers on an interplanetary vessel. If we come across aliens wanting our help, you can be sure that Karena would say something like, "Ignore them. My marriage is more important."
Bev approaches me quietly.
"Jean-Luc." she says, "I'm really worried about this meeting and the proposed marriage. Karena will order Wes around as she is an Amazonian and he will be her Life Servant. Wes won't be happy at all."
"I understand what you are saying, Bev." I reply, although I'd be glad to get Wes out of the way, "As Wondawowman is a matriachal society, perhaps you can persuade the Queen that he is not the right person for her daughter, or at least have a very long engagement?"
Bev considers this.
"That won't be easy" she continues, "As both mother and daughter are set in their ways, it will be tough to persuade them.
After she walks away, Wes approaches me.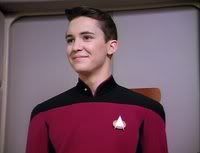 "Hi Captain!" he chirrups in that overly cheerful voice of his, "I'm glad to be on the
Enterprise
again."
"Yes." reply glumly, as usually when he is on, the ship needs saving, and he manages to do it at the last second. If it wasn't for him, it probably wouldn't need saving.
"Hey, Wes!" says Geordi, "As he walks past us, "Are you looking forward to seeing your future mother-in-law? Getting married soon, are you?
"Err..maybe soon, Geordi." replies Wes, somewhat hesitatingly.
"Are you alright about the marriage plans, Wes?" I ask
"Well, Captain." he says hesitatingly, "It worries me. Karena is very forceful. Though she's a lovely girl, she does tell me what to do a lot. Maybe she'll mellow after a while?"
"It's a lot to hope for Wes." I say, "Perhaps you could tell her you're not sure about it yet?"
"She'd lacerate me with a spear if I said that." he replies.
"What if you told her that another girl has fallen for you?" I ask, "That could slow the marriage plans. While you have a long engagement, you and Karena may well fall in love."
Wesley thinks.
"Who do you have in mind." he asks.
"How about Ensign Ro Laren?"
To be continued...