Guest Poster: Beverly Crusher
The
Enterprise
has now arrived at Wondawowman, and I have a job to do.
We are here so that I can talk with Queen Diana about the impending marriage between her daughter Karena and my son, Wes. He wants to slow it down so that they have a long engagement, but Karena and her mother are anxious to rush it through. I've got to persuade the Queen to change her mind.
The attempt to do so a couple of days ago ended in disaster when we tried to make Karena believe that Wes was in love with Ro Laren.
---------------
Wes, Karena, Deanna and myself beam down to greet the Queen. Normally, Jean-Luc would go, but Diana does not recognise men in authority. Wes is going because he is the fiance of her daughter.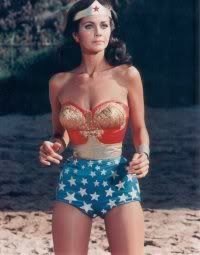 "Greetings, daughter." says Diana to Karena, "It is a pleasure you see you, as it is your future Life Servant. Hello, Wesley."
Wesley says hello, and the Queen turns to me.
"Ah, Beverly." she says, "As you are the mother of the Life Servant, we have much to discuss. Come with me."
I am about to start talking, but Queen Diana has already started walking to her palace. I have to chase after her.
---------
A few moments later, I manage to catch up with her, and we sit in the ornate room, with male servants leaving as we enter. Unsurprisingly, there are paintings of amazonians in various triumphal poses.
The Queen's other daughter, Nexa, is standing in the corner. Nexa is a bad one; she always has evil designs on Wes.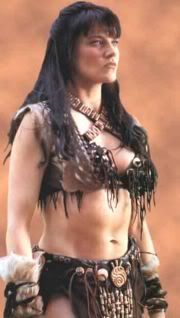 "You may leave us now, Nexa." says the Queen to her.
Nexa looks angrily.
"But I'm family!" she shouts, "I want to put my point of view. Why should Wesley get Karena? He should have me!"
"This marriage is not your concern, Nexa!" replies Diana angrily.
In response to this, she storms off and slams the door, like a little girl who has been told to go to her room.
"Now then, Beverly." starts the Queen, "We have to decide upon a marriage date, and what things will be required for this most Glorious Day."
"Er, yes, your Majesty." I start, "Although I was thinking that this wedding might be a little err..hasty."
"Nonsense." she replies sharply, "Now I think the flowers that we order should be in the colours of the Wondawowman flag."
"That is good, your Majesty." I say, "But do you think the couple would like a long engagement rather than jumping into a marriage right away?"
"No." the Queen states flatly.
This discussion isn't getting anywhere. I'll have to try a new tack.
"Ermm...the Academy have got very firm about Cadets marrying each other." I start, "They prefer to see them graduate first before that happens. As both Wesley and Karena are in the Academy, they wouldn't allow it to happen."
"I've never heard this rule before." replies the Queen, "I'm sure they would bend the rule for me."
"I'm afraid they won't." I tell her, "If they did, others would want it as well."
"That is unfortunate." concedes the Queen, after some consideration, "It sadly looks as if their engagement will have to go on for some time yet."
I breathe a sigh of relief and leave her presence, going back to Jean-Luc.
"How did you do, Bev?" he asks.
"Very well." I reply, "I never knew I was so good at lying through my teeth. You'll have to send a priority call to Starfleet Academy, asking them to install a new directive regarding Cadets getting married right away!"