What kind of a place is this Stringworld?
All of the inhabitants walk strangely , guided by tiny ropes that vanish into nothingness, and they are carbon/wood based.
Commander Shore tells me they are guided by the Anderson Spirit.
With me in the Star City/Marineville complex is Steve Zodiac, Commander Sam Shore (who is in a hoverchair), plus two women; Shore's daughter Atlanta and her rival for Troy Tempest, Marina.
A call is coming in from Lord Titan, who lives at the bottom of the sea in Titanica.
Deanna, Data and Riker are with me looking on....
------------------
The videoscreen flickers into life.
A green figure appears in front of a throne that looks like a giant oyster. Riker and I maintain a supressed giggle; even Deanna looks like she's going to burst out laughing any moment. Data looks rather perplexed and confused.
"I am Lord Titan!" booms the image; actually he looks more like how the father of an Orion Slave Girl might look. We continue listening to him.
"There are invaders to this planet." he goes on, "They will surely invade Titanica; one of my Terror Fish will send out a cobalt destructive missile. It will easily pierce their shields."
Our smiles vanish instantly, as I use my Com to alert Worf, who instantly sends a photon torpedo to meet the missile. The blast rocks the picture, and Titan looks a little bedraggled, as if he has been in a fishtank and it's been pushed around.
The picture of Titan goes off and Marineville communications tell us
Stingray
is on it's way; we look at the video.
---------------------
A few moments later, Troy Tempest and Phones are in the office. I've noticed that everybody seems to have massive eyebrows; it must be a genetic trait of those who live on this world.
"Hello Commander, Marina, Steve, Atlanta" Troy says to them all.
Commander Shore explains the situation to them and who we are; Atlanta sharply interrupts.
"I noticed you greeted me last of all, Troy!" she tells him angrily, "You can't string me around like this; I'm a woman, and you can't two-time me with a fish."
"Atlanta!" the Commander says angrily, "This isn't the time for that."
"Why not?" she replies, "To Troy, I'm just his puppet who will do what he says."
I empathise with him, though. I had the same trouble with Deanna and Jadzia when they were fighting over Worf.
"The fact that we are carbon/wood based has been a problem." Troy continues, "My friend Mike Mercury, who piloted
Supercar
had a nasty accident while he was juggling chainsaws at the party he went to."
"What about the Anderson Spirit?" I ask Commander Shore, "Do you think you might be manipulated by aliens?"
"That's a good question, Captain." he says, "One man who might be able to help us is Hiram J Hackenbacker, who is also known as 'Brains'. He works for a friend of mine, Jeff Tracy. I'll call him.
The videomonitor comes alive again. What a place!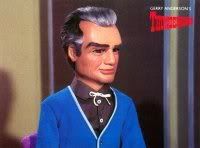 "Hi Sam." says the figure, "This is Jeff; what's the problem?"
Shore tells him what is happening, and who we are.
"That is ambitious" replies Tracy, "If it goes wrong, we could all fall on our faces instead of our feet. I'll send Brains with the boys; it looks like he and this Data guy might come up with something."
Atlanta is taunting Marina again. I hope we can get going soon. Riker is sympathising with Marina while Deanna is angry with him and says she thinks Atlanta is being overlooked.
Troy Tempest and myself are both staying out of the way.
To be continued...