Fortunately, in the time we have been waiting for Brains and the Tracys to arrive, things have settled down.
Atlanta and Marina have made Deanna and Riker kiss and make up telling them that the dispute they have over Troy Tempest is for them to sort out. That's what Atlanta said. Marina is as quiet as ever.
Steve Zodiac and Commander Sam Shore are waiting around the combined Star City/Marineville Headquarters.
We are hoping Brains and Data will be able to solve the problem as to why all the inhabitants of Stringworld are guided by a mysterious force named 'The Anderson Spirit'.
---------------
Suddenly, we hear a noise outside; we look and see.
"I think they need noise reductions on those engines." comments Riker, "A lot of the windows are breaking. International Rescue probably have a deal with all the glaziers."
A little while later, two men, together with a bespectacled one walk in.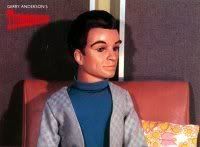 "Hi, I'm Scott, the top flyer of the
Thunderbirds
; Dad sent us over to see if we could help."
"Who says you're the top flyer?" says the other, "You only pilot it because you're the firstborn, otherwise I would have been top dog. I should have strangled you when we were children. Hi, I'm Virgil."
"You just do the grunt work in
Thunderbird
2, Virgil." Scott replies, "I'm surprised Dad didn't put you out of the way in the space station like I suggested. John is a much better pilot. You're always crashing
Thunderbird 2
."
"Not as much as you do in Thunderbird 1!" retorts Virgil.
"N-now t-then, boys." replies Brains in a strange stuttering voice, "Y-you know what your father said about your squabbles."
Are people always fighting on this planet? Still, I guess it's no different from all the disputes we get on the
Enterprise
.
Data and Brains go into the laboratory.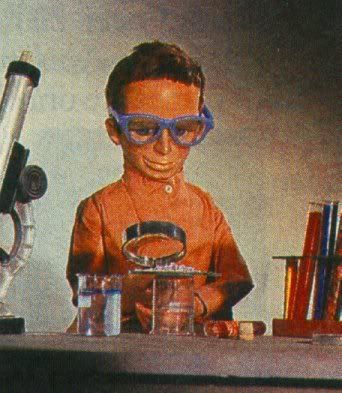 Some time later, they come out.
"A-at f-first" says Brains, "I t-thought it might be The H-Hood."
"Is that something all the inhabitants wear?" asks Deanna.
"No, Counselor." answers Data, "He appears to be a criminal on this planet."
"A-after looking t-through the lens into space," Brains continued, "W-we have seen a ring surrounding the p-planet. It seems it c-comes from that."
I call the
Enterprise
to investigate the ring; there is a device left inside; with photon torpedoes, the object is destroyed.
In the control room, Troy, Phones, Shore, Atlanta, Marina, Zodiac, Virgil, Scott and Brains all collapse to the floor.
What have we done? I'll have to pull a few strings to put everything right. This is pushing the Prime Directive a little too far.
Then slowly, each of them manages to get up, though it is a struggle at first, and stand up proud. They all look elated.
"Thank you, Captain." says Commander Shore, "You have freed us from the opressive Anderson Spirit that has haunted us for generations.
----------------
A little while later, we are just about to leave. We see Troy Tempest in his best clothes on the terrace romancing Marina.
Atlanta sees them. Oh dear.
She rushes up behind them and pushes Marina over the balcony and into the ocean.
"Take a drink of that, Fish-face!" she exclaims, then proceeds to give Tempest a long, lingering kiss, as Marina emerges bedraggled.
Deanns has a smile on her face as I indicate that it's time to beam up.