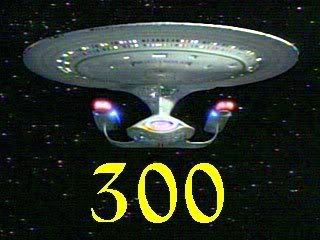 I've been on the
Enterprise
all day, and no one has mentioned it's my 300th post. Are they pretending not to know...or don't they know?
I think I'll have to discipline a few ensigns or send someone on a dangerous mission.
"Captain Picard, this is Doctor Crusher. Please report to Ten Forward" says my com badge, "We have an emergency here."
It had better be important; I think about sending Riker, but as nothing is going on, I'll head there.
When I open the door to Ten Forward, I am greeted by a lot of people and noise.
"Happy 300th, Captain Picard!!"
they all shout.
I recognise the staff and also the occupants of my Guest Quarters, who visit my Journal.
Beverly rushes forward and gives me a big kiss.
"Happy 300th, Jean-Luc." she whispers to me. Everybody cheers.
I hope I'm not going to have to do a speech; I'm never keen on doing those with a lot of people around.
I looked around the group:
Tammy
and
Nic
were having an animated political discussion with
Ellee Seymour
.
Barbara From California
was talking with
Raehan
.
Ciera
was chatting with
M C Pearson
, with
Better Safe Than Sorry
listening in.
Professor Xavier
was fending off congratulatory messages, saying "It's not me who has had 300 posts, it's him!"
Mrs Mogul
was talking with
Trinity
about her recent move to the US, and the upcoming birth, while
Jon, Intergalactic Gladiator
was talking with
Florence
was talking about Dante.
Black Widow
was whispering with
Pantha
and
Vampirella
, who was trying to keep some bottles of bloodwine for herself and take it with her.
Summer Dawn O'Ciardha
joined the Drakulon Princess. It seems they had a lot to talk about.
There was a heated discussion with
Darth Nepharia
,
J Ranae Oneida
,
Merlyn Gabriel
,
Padme Amidala
and
Erifia Apoc
. Erifia was there with Becca The Magnificent and Tatooine who was telling everyone how she could count to five. This annoyed Worf, as he was trying to drink his bloodwine. I could see this group of people had a lot in common, but it's best not to get involved in these matters.
Craziequeen
was talking with
Minerva
about life in England, while
No Average Girl
and
Radical One
were chatting with
Susan
about religious issues.
Curmudgeon
,
Jim McKee
,
Is Anything Truly Random?
InterstellarLass
got into a discussion about marathon running.
Terminatrix
started to worry a few people, particularly Worf, but Seven chatted with her, as they seemed to have a lot in common.
Meow
and
Friday's Child
were exchanging postcards, inviting
Ribbiticus
and
Shelley
to join them;
Fickin Chingers
was explaining to
Dragonflyfilly
and
Jana
where her unusual name came from.
Heather Nicole
was chatting with Bev and
Secret Squirrel
about nursing.
Lois Lane
was telling
Jaime H
and
Jen
that, no, she did not know a Mr Clark Kent.
After collecting jokes from Data,
Miss Cellania
was telling them to
Lori
,
Lady Wyntir
,
Barbara
and
Nettie
. I couldn't hear them laughing. Perhaps she should have bought her own?
Michele
and
Michelle
were arguing over name spelling, as they always seem to do.
Osquer
, in a green outfit, was writing a haiku for the event, reading it out to
Panthergirl
and
Paperback Writer
.
As
Lahdeedah
,
Nightingale
,
Petroville
,
TNChick
,
Tara Lynn Johnson
,
Rowan
,
Siskenyon
and
Tanda
gossiped about the latest events where they were, Bev comes up to me and says, "Time to make your speech, Jean-Luc."
Oh dear.
I step up to the microphone.
"Err...I'd like to thank you all for coming" I say.
A few cheers come up from the crowd, and Beverly urges me to carry on speaking.
"It's through you that my Journal has been going." I tell them, "Without your encouragement and support, it would have vanished a long time ago. I have made many firm friends during the time my Journal has been active. This will be the 300th post. I look forward to writing many more. Keep those comments coming in!"

"Well said, Jean-Luc" says Beverly, that was a great speech.
Suddenly, I can feel a tug on my uniform from a small person who has walked up to me.
"Hello Captain Picard. My name is
Tatooine
, and I can count to FIVE!"