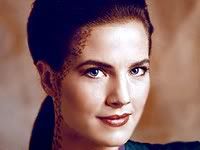 Guest Poster: Jadzia Dax
"It took you a while to get away from those monsters." I say to Worfie, as we emerge from the holodeck, "That Chieftain nearly caught you. It's a good job that we had the safety protocols on."
"Nonsense." Worf answers gruffily, "He must have been programmed at a faster than usual speed. I never need these protocols."
"Say what you like." I tell him, "I've noticed that you are getting slower. Why was it that you had to order a new uniform at a larger size last week? You're getting fat, Worfie."
Worf gives me a look as if I have insulted his whole family line. Nevertheless, I press on. His rants don't bother me.
"Look, Worf." I tell him, "How many true Klingon warriors do you see overweight? The only ones eating too much we see are those in bars reminiscing about the good old days with Bloodwine. You don't want to be like them?"
He ponders for a while. I think I've struck a chord. Worf sees himself as fit rather than overweight.
"Very well, Jadzia." he declares, "I shall be carefl what I eat. It is a good day to diet."
I'm not sure whether that was what he thought or an example of Klingon humour. They are not known for their joke-telling.
------------
A few hours later, we are ready for lunch, and I give this to Worf.
"What is this, Jadzia?" he asks, "It looks awful."
"I thought we'd start your dietry program off with a Greek Salad. They are very popular with..."
"A Klingon does not eat salad!" barks Worf, "Imagine how my fellow warriors would act if I told them that I had a salad before going into battle?"
"At least you would have a better chance of surviving in the battle." I tell him, "They would probably get killed."
Worf reluctantly starts to eat his Greek Salad. Though he moans and curses, he eats it all. He gets up and marches to the holodeck.
"I have a few holographic monsters to kill."
Getting Worf to shed weight will be a long process. Any monsters, real or otherwise had better watch out in the process. It's the only way he lets off steam!