Yuk! I wake up today, realising that I am no longer in my forties. I feel ancient in guess that Starfleet will soon hint at me being a veteran and phrases like
'give a younger man a chance'
.
Not likely!
I switch on my
Captain's Log
and find there are adverts for health insurance for the over-50's and for walk-in sonic showers.
While putting my uniform on, my arm aches. Not rhuematism is it?
I am on the way to the Bridge, and hear a couple of crewmembers talking.
"I thought he was older than that." one says to the other, "He certainly looks it."
"Who are you talking about, crewman?" I ask.
"Err..." he stutters, "I was talking about Crewman Jackson's father, Captain."
A likely story.
My Com Badge suddely tells me there is an emergency in Ten Forward.
I arrive there in a matter of minutes, open the door, and am greeted by a crescendo of loud noise.
"SURPRISE!"
Bev and the rest of the senior staff are there in party outfits are all there waiting to celebrate my party.
"Happy birthday, Jean-Luc." Bev says softly, "Enjoy the party."
"Who is steering the ship?" I ask.
"Never mind that, Captain." Riker answers, "It's on autopilot."
Vic Fontaine and his band start the proceedings off with
Happy Birthday
, then I have to make a speech.
Naturally Ensign Britney giggles, and does an impression of a man with a walking stick. That girl will be off to the brig again.
"Ladies and gentlemen" Fontaine announces, "Beverly Crusher will be singing a special song dedicated to Captain Picard.....
Forever Young
."
May God bless and keep you always
May your wishes all come true
May you always do for others
And let others do for you
May you build a ladder to the stars
And climb on every rung
May you stay forever young
Forever young, forever young
May you stay forever young.

May you grow up to be righteous
May you grow up to be true
May you always know the truth
And see the lights surrounding you
May you always be courageous
Stand upright and be strong
May you stay forever young
Forever young, forever young
May you stay forever young.

May your hands always be busy
May your feet always be swift
May you have a strong foundation
When the winds of changes shift
May your heart always be joyful
And may your song always be sung
May you stay forever young
Forever young, forever young
May you stay forever young.

Bev then gives me a big kiss.
I guess being 50 isn't so bad after all!
"We have all clubbed together." Riker announces to me, "To present you with this ticket for a vacation for two on the couples-only planet of Romantica."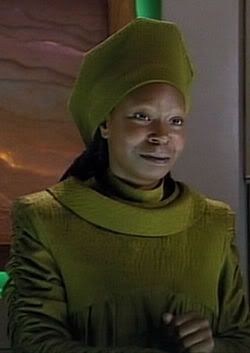 "Who are you gonna pick, Jean-Luc?" Guinan asks, "You might get one fiery redhead if you don't go with her."
"It had better be me." Bev whispers, "Or the next time you come to SickBay for your medical examination, I'll make sure the holographic doctor carries it out, and not me!"
"Don't worry." I say, as we go into a smoochy dance, "Get your bags packed. We're off to Romantica."
"Happy Birthday, Jean-Luc."
---------------
Editor's Note:
Yes, Wednesday 14th January is my 50th birthday. In response to some requests, below is a photo of the portrait of myself that I've had done.