I am summoned to Starfleet Headquarters by the Admirals.
It looks as if the
Enterprise
has drawn the short straw for another dangerous mission again. I don't know why it seems to be us. Any other starship just routinely cruises the galxy with bearly a scratch, while ours seems to get patched up and sent off again with alarming regularity.
I open the doors and Admirals Costello and Abbot are there.
I wonder if they know the
'Who's On First
' comedy routine.
"Ah, Captain Picardo," says Costello, "Glad you could come."
"Thank you, sir." I reply, "Actually, it's
Picard
."
"Whatever." Abbot tells me, "That's not important right now. However something has come up on the fauna planet Epsilon II."
"Yes," continues Costello, "We set up a base for people to live there. Everythingthing was going well until the ecology started fighting back."
"Sorry, sir?" I say with a puzzled look."
"What my colleague is referring to," Abbot tells me, "Is that giant plants, named Truffids have started to threaten the inhabitants. They are hiding in their base. The Truffids are on the march. In a few days, they will reach the base."
"We don't want to destroy them." Costello takes up the talk, "We want to have peaceful relations with the Truffids."
First Contact with a plant; whatever next? A rose bush?
"I see, sir" I reply, "Lieutenant Commander Data should have an expert knowledge of fauna life, it should be a good..."
"That's not what we want, Captain." Abbot informs me, "We want you to take a human expert along; who we have in mind knows more about plant life than anyone else."
"Who's that?" I ask.
"Send him in." Costello informs a guard. The door opens.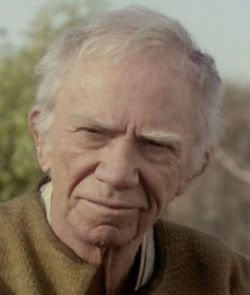 It's Boothby, the Head Gardener of Starfleet Academy.
"Hello sonny." he tells me, "Let's get going on this mission. I'm already packed and ready to go."
"Admiral Costello." I say hastily, "Do you think it is safe for Mr Boothby to go on this mission? After all, he is a little frail."
"Are you trying to say I'm old, sonny." Boothby barks at me, "Let me tell you, I'm sharper than anybody else in this room."
He then looks at the Admirals.
Now make sure my Academy gardens are looked after while I'm away, or you'll have to answer to me."
"Let's go, Mr Boothby" I say with impending dread, and get ready to beam up with him.
To be continued...