Guest Poster: Data
Captain Picard has been very annoyed since Sid has fitted the new computer in the
Enterprise
. It is apparently an old model that was used in the latter part of the twentieth century called the Giganticon 6000.
He has contacted Starfleet and they have informed him that budgeting has meant that slightly older models are now being installed.
Captain Picard asks me to press the 'Start' button to commence it's activation.
Nothing happens.
"Hold on, mate." Sid tells me, "You've got to wait for the valves to warm up a bit. The Giganticon isn't going to come on right away."
"We could have been destroyed by an alien vessel while we were waiting for this machine to 'warm up a bit'" complains Worf.
Everybody mumbles and agrees; I decide to ask Sid a question.
"Do you think the circuitry and database of the Giganticon will allign to my positronic brain pattern so that information may be freely passed?"
Sid looks hesitant.
"Err...it does do Beginner's Level Chess." he replies, "As long as other functions, such as Life Support are cut out."
"Are we safe?" asks Doctor Crusher, with concern.
"Don't worry, missus." Sid assures, "We've got the back-up system over here."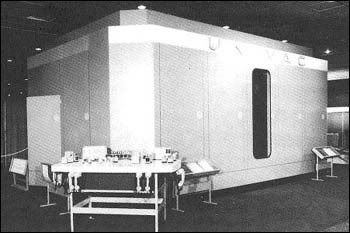 "It looks like an Assimilation Chamber." Seven states, with affection.
There is a clanking sound, and a green light appears in the Giganticon.
"It's up and running." Sid declares proudly, and turns to me, "Give it an instruction."
"Computer." I say, "Take the
Enterprise
to Starbase 6."
Another clanking sound is heard; the
Enterprise
starts to move forward, then shudders to a halt.
"
Knight to King's Pawn 3"
states the computer, before switching itself off.
"That's it!" shouts Captain Picard, angily, "Sid, I want to to remove every inch of what you bought in, and put back the computer we had before, together with the latest upgrades...and no arguments!"
"Come on, lads," Sid tells his helpers, "We'll put this lot in the
USS Madagascar
instead; maybe they aren't as fussy."
---------------------
A few hours later, and our former computer is back in place.
"Well, Mr Data" the Captain asks me, "You must be pleased to have our old computer back."
"Indeed." I reply, "The chess matches will be more challenging than the ones with the Giganticon."