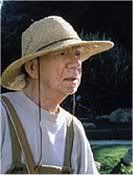 Guest Poster: Boothby
Now I'm on the
Enterprise
undertaking a dangerous mission to Epsilon II, I really rerally rarin' to go.
Some people just think I'm an old guy who looks after the gardens at Starfleet Academy. I tell you this, I'm sharper than all those Admirals and Cadets who think they know it all put together.
What was I saying?
Oh yes, don't interrupt me. It'll come to me.
Yes, these giant walking plants called Truffids have taken a dislike to the inhabitants of this new base that the Federation have set up on the planet, and are starting to march upon them.
The top brass wants me to sort it out; I'm the best one that knows about plant life.
They are right there.
--------------------
Picard welcomes me on board. A redheaded woman is standing next to him. She's obviously looking at him adoringly.
"This is Doctor Crusher" says Picard, "If you don't feel well, she'll help you."
"Listen, sonny." I say, "I'm not Old Father Time. I'm as fit as a fiddle."
"Of course you are." comments the redhead condescendingly, "But just in case you do, call the SickBay."
"Missy, is your name Beverly?" I ask her.
"Yes it is." she replies, "But how did you know?"
"I caught Picard writing 'I Luv Bev' on one of my trees the other week." I tell her, "He's done that before. I gave him a right piece of my my mind."
They both blush like a couple of teenagers. You'd think they would know better. Anyway, he won't be able to write that phrase on the Truffids. I can't see 'em taking too kindly to that!
----------
Once I get my things sorted out in my quarters I take a look around.
I come to a brunette who I met a while back in the Academy Gardens; she is holding hands with a bearded guy who is the Commander, judging by his stars.
"Hello Mr Boothby!" she says, "Do you remember me?"
"I sure do, missy" I reply, "You're err....umm.....Deanna."
"That's right." she says, "Glad to see you on the
Enterprise
."
"You must be Worf" I say to the bearded guy, "I remember Deanna telling me that she was seeing him and enjoying his company."
Deanna goes red and the bearded guy looks annoyed.
"Actually I'm Commander Will Riker." He informs me, "Worf and Deanna are no longer together."
The two march off; it sounds like there is an argument brewing between those two. I don't fancy Worf's chances.
--------------
A female Borg drone suddenly approaches me.
"You must be Boothby, the guest we have" she says, "I am Seven of Nine. I am studying human behaviour on behalf of the Borg Queen on this ship."
"In that case, we have a lot in common." I reply, "I find that when I tend the Academy Gardens, I see many forms of human behaviour; courtship, double-dealing and all manner of back-stabbing."
"Really?" comments Seven, "I must visit the Gardens sometime. The Queen will be most interested in what I observe."
----------------
My Com badge is activated.
"The
Enterprise
is approaching Epsilon II. Will Mr Boothby, Lieutenant Commander Data, Doctor Crusher, Counselor Troi, Commander Riker join Captain Picard in Transporter Room One in order to beam down."
Time to go and meet the Truffids.
I'd better take some plant spray.
To be continued....