Starfleet have ordered that the
Enterprise
be fitted with a new computer, so we are returning back to Earth.
This sort of things seems to happen so often; they tell me that the one we have is 'out of date' and we need upgrading.
Geordi isn't happy about it, as it upsets the engines and the optimum performance. I can't say I'm keen either. I have to try and figure out the instructions. Usually I only find out after I have been coached by one the children who live on the ship.
We await for the installer to beam on. A flash and he appears.
"Morning, mate."
It is Sid, the engineer who always tends to visit us. He has a bag of tools, including a hammer and screwdriver.
"Hello Sid." I say, "I hope you know how to put this latest computer in."
"Don't worry, mate." he replies, as he puts his cigarette behind his ear and picks up his toolbox, "We'll soon get this new computer up and running, and have a real 21st Century style system running."
"But it's the 24th Century!" I protest, "We need one that is suitable for a
Galaxy-Class
starship, not an old crate."
"All right mate," says Sid, "Keep your hair on. Once I've finished, you'll have top level machines running here.
I leave Sid and his minions to bring the parts on board, while I go for a drink in Ten Forward with the others.
---------
"Do you think the computer will be an up-to-date one, Captain?" asks Riker.
"I'm not sure, Number One." I reply, "I somehow have my doubts when Sid is installing anything."
"I did see some of the men bringing transistor parts aboard." comments Data, "I do not believe they comply with 24th Century technology."
"Agreed." says Worf gruffily, "They may be cutting corners in costs."
"That's what I've heard as well." Jadzia tells us., "The cost of building statships has gone up lately. Starfleet possibly thinks they will work with older equipment."
"If Starfleet had contacted the Borg," snorts Seven, "You would have a far more efficient computer; we have assimilated the best minds in the universe and would easil..."
Seven's pro-Borg rantings are cut short when Sid walks in and tells us all that the computer is installed; we are all led in to see it.
"It's enormous!" I shout, "This is the size they used to be in the mid-twentieth century."
"This machine is called the Giganticon 6000" states Sid proudly, "It stores 6 MB of memory and is capable of delivering calculations in less than half an hour."
"We need something better than that." complains Geordi.
"Don't worry, mate." Sid assures him, "There will be an upgrade out soon.."
He points us to the computer keyboard.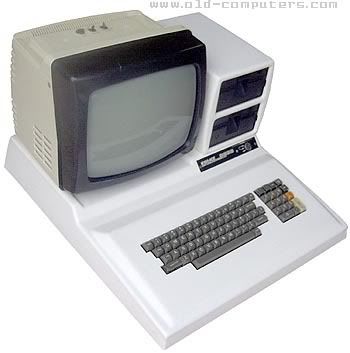 "Now this is a real up-to date model." he proudly declares.
"It's ancient!" I tell him, "I'm going to complain to Starfleet and get the old computer put back in."
"Hold on, mate." Sid says, "Don't be hasty; give it a chance. You might be surprised to see how well the Giganticon works."
I press the 'Start' button, and we all wait to see what happens next.
To be continued...
-----------------------
Author's note:
As you may have guessed, I'm having a new computer fitted. The engineer will be installing it, and afterwards, it will require broadband connection and data transfer. As a result, Part Two will be shown when I am reconnected; this may take two or three days from Tuesday.