It is highly dangerous been a redshirt crewman in the 23rd Century on Captain Kirk's
Enterprise.
Since Q took me back there, to show me how tough things were, I've had to be very careful. When we investigated events on the desolate planet of Zargon III, a fellow crewman has been killed by a mysterious blood-sucking alien. Kirk has taken an Orion Slave Girl named Thada that we have found back to the
Enterprise
to show her what love is.
-------------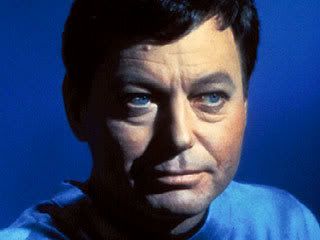 "A blood-sucking creature, Spock?" comments Doctor McCoy, "Maybe it's a taxman? Perhaps we ought to send you? The creature might not like green Vulcan blood!"
"That is not logical, Doctor." replies Spock, "Evidence suggest that the creature will feed on all sorts of blood."
"Oh, get a sense of humour transplant, Spock!" replies McCoy, "Don't suppress it all of the time!"
I wish I had Bev and Riker with me; at least they don't squabble all the time like these two.
We look in the cave where we found Thada; at the back, we see some alien skeletons that are near a fire.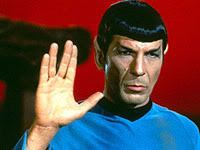 "Fascinating." comments Spock.
"Stop saying 'fascinating', you pointy-eared Vulcan." McCoy tells him, "What does it all mean?"
"It means that Thada is the mysterious alien who killed Crewman Hunter and other visitors to this planet." states Spock.
"She could have special powers," I add, "Or be a shapeshifter."
We beam up hurriedly; Captain Kirk could be killed by that creature. As I know he is supposed to last until the inauguration of the
Enterprise B
some years from now. We can't have the timeline disturbed.
"Where is Captain Kirk?" we ask Scotty, who is at the transporter controls.
"He says is he showing that green girl around" he replies, "And her says that he canna be disturbed while he has coffee with her in his quarters."
"Unfortunately, we must do so to save the Captain." comments Spock, "Arm yourselvers everybody."
--------------
We reach the Captain's quarters; there is a lot of noise inside.
"Spock." says McCoy, "What if you're wrong and the Captain is just pursuing his usual interests?"
"It's a risk we have to take, Doctor." he replies, as he kicks the door down.
A huge monster is towering over Kirk; it has long claws and is covered in furm like a giant grizzly bear. Kirk'd shirt is torn, and there are scratches on his chest.
We all use our phaser, and the monster disappears into nothingness.
"I guess there are some women I don't get on with." laughs Kirk, "Spock, please inform Yeoman Janice Rand that she has been re-booked for tonight."
I suddenly see a blinding flash of light.
--------------------
I am back in my own quarters of the
Enterprise D
in the 24th Century with Q.
"Well, Jean-Luc." he asks, "Did you find it easy living in the 23rd Century?"
"Not really, Q." I reply, "I found it most enlightening, and it shows how far the Federation have come since then. Now just let me rest for the evening as I wanted to."
Q disappears at last; now I can take it easy for the night after that party.
The alarm clock goes off; it's morning already!
Aaagh!