Boothby has been causing some problems on his trip from Earth to Epsilon II. He was supposed to help us with the walking plants called Truffids that are starting to march against the inhabitants of the base that has been established there.
However, during the journey, Deanna and Riker have stopped talking to each over after a row they've had. When I've tried to find out the cause, all both of them have said is "Ask Boothby."
When I did, he just mentioned that he mistook Riker for Worf.
I think I can guess the rest.
------------------
However, we are now in Transporter Room One; fortunately, Riker and Deanna have kissed and made up, and they are going down with Data, Boothby, Beverly and myself.
We beam down to see a very green planet with beautiful fauna all around. Boothby looks in awe, as it's a paradise for any plant lover.
In the distance, we can see the base, newly set up; the doors are locked and the shutters are down. To the west, things look odd.
"It's like the ground is moving." says Deanna.
"Of course it is, missy" comments Boothby, "It's the Truffids closing in."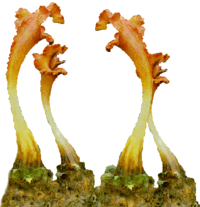 Slowly, the walking plants get nearer; we rush over to the ground between the base; as we do, we know we don't have miuch time.
"What do we do." asks Riker, "Destroy the plants or beam the inhabitants off?"
"We don't want to do either." I say, "The Truffids inhabit this world, and have a right to it. However, the scientists on the base want to observe the wonderment of nature."
Had it been James T Kirk who had this problem, he would have simply blasted the Truffids off the face of the planet with a couple of photon torpedoes. Things are so much more complex in the 24th Century.
"We can turn the base into an observatory by shielding it." suggests Data, "The Truffids will be unaware it is there."
"That's perfect, Mr Data." I reply, "But we need time to delay the Truffids while we construct the shield."
"I can help there, sonny." says Boothby, and he gets out his bag a few tiny globules.
"What are these?" asks Beverly.
"Plant repellant explosives, missy." he comments, "Just throw them at the ground before they get here and it will send them back for a while until you get the shield working."
We throw them and smoke risese as the Truffids approach; when it clears, we see they are all disoriented and starting to retreat.
"Well done, Mr Boothby." I tell him.
"It was nothing, sonny." he tells me.
A few hours later, the base is shielded, and the Truffids are walking about happily, none the wiser that they are being spied on by the scientists, and are likely to be the centre spread for
'Federation Gardener'
next month.
-------------------------
As we approach Earth, in my Ready Room, Boothby is in angry consultation over the viewer with Admiral Costello.
"Look you young whippersnapper!" he says, "I was the gardener when you were just a pimply cadet. Couldn't you remember to get someone to look after the Gardens for a few days? What did you say? You have seniority? I know a lot more about you than you want to admit. I saw you with Monica Cartwright at the Christmas party. I'm sure you wouldn't want your wife to know about that....and another thing..."
I decide to walk on; there are some things one is just not meant to know.