Guest Poster: James T Kirk

Captain's log, Stardate 26647.4.
The
Enterprise
has arrived at Zargon III, where we are carrying out routine checks on the planet. Hopefully I can find a few aliens to zap and some pretty girls to rescue and fall in love with.
I'm taking Bones and Spock with me down to the surface, along with a few expendable redshirt crewmen. One of them, Michael Foster has been acting strangely. He talks of making peaceful First Contact with any inhabitants. He called Spock 'Number One' on a couple of occasions.
That made Spock's eyebrow raise!
--------------
We all beam down to the surface; it looks rather barren, and the sky has a kind of orange glow. The rocks look as if they are created out of papier mache. It's odd how a lot of planets we visit seem to look like that.
"Split up everybody." I say, "And look for anything unusual. You redshirts go over there; try not to get killed. I've used up my quota of redshirt replacements already for this year, and Starfleet won't be sending me any more for quite a while."
"Perhaps we ought to be going with you, Captain." suggests Foster.
"No, Crewman." I reply, "It makes it more dangerous for us, and we can't afford to get killed off."
Bones and I go looking in a hilly part of the planet.
"What do you think about Foster?" I ask him, "He seems to have undergone a personality transplant. He appears to have a very authoritive air all of a sudden."
"Don't ask me, Jim." Bones snaps at me, "I'm a country doctor, not a behavioural psychiatrist."
"AAAAAGGGGHHHH"
A terrible scream comes from the direction of the redshirts. We all go to investigate.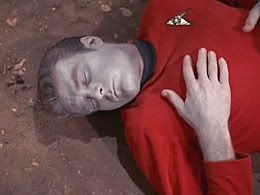 Crewman Will Hunter's skin has turned a weird colour, with all his blood removed, according to Bones. Another redshirt bites the dust.
"Fascinating." says Spock.
A great contribution HE makes!
"Now what did I tell you!" I groan dispairingly, "I told you redshirts not to get killed; I'm on a tight budget with staff here. The
Enterprise
is getting a bad reputation for crew turnover."
Everybody goes out to look around further, but there is an air of tension.
Crewman Michael Foster comes to me.
"I've found something here, Captain." he tells me, and leads me to a cave, and shows me what is inside.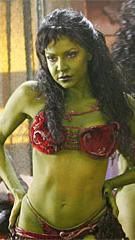 Wow! It must be my lucky day. I've hit the jackpot!
"I am Thada, an Orion Slave Girl." she says, "I was abandoned here many years ago by my masters."
"Why is that?" I ask, "Did no one love you?"
"What is love?" she replies innocently.
"Come back up to the
Enterprise
, and I'll do my best to explain it to you."
It's tough being a Captain in the 23rd Century!
"What about the creature that killed Crewman Hunter?" asks Foster, "Shouldn't we all be looking for that, Captain?"
I'll let you do that, Foster." I reply, "I've got to look after this lonely young lady."
As the others look around, Thada and I beam up to the
Enterprise
.
Another day, another, woman!
I'll postpone Yeoman Janice Rand until we've delivered Thada to her homeworld.
To be continued...