My birthday party was a lot of fun; it was a great surprise having that party in Ten Forward was really enjoyable, although I would have been in a bad mood if there wasn't one.
The highlight was when Bev put her Marilyn Monroe dress on and blonde wig, and sang "Happy Birthday, Captain Picard"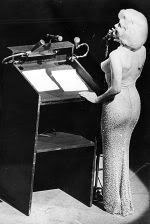 Well, now the day is over, and it's time to relax in my quarters after all the noise and excitement of they day.
Suddenly there is a blinding flash of light.
"Happy Birthday, Jean-Luc."
It's Q.
"Go away, Q" I tell him, "I just want to relax."
"Don't be like that, Jean-Luc." he replies, "I came to wish you a wonderful birthday."
"Thanks very much. Now go back to the Continuum."
"I've got a nice pressy for you here." he continues.
Suddenly a marching band appears in the room, playing 'Happy Birthday' at an ear-shattering volume.
"GET THEM OUT!" I shout as loudly as possible.
They disappear.
"The trouble is with you, Jean-Luc." comments Q, "Is that you are never grateful. Here you are, in the comfort of a Galaxy-class starship. You could never survive in one from a century ago."
"Nonsense, Q." I say, "Of course I could."
As soon as I said that, I knew it was the wrong thing to say.
"Oh, really." Q tells me. He smiles, and there is a flash of light.
-------------
The next thing I see is a much smaller room, very primatively built. From my history lessons at the Academy, I recognise it as a 23rd Century Starfleet vessel.
I look in the mirror, and am shocked at what I see.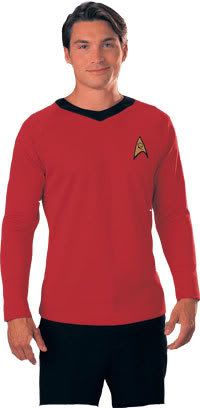 I am much younger, with hair, which is good; alarmingly, though, I have a red shirt on; they were expendable in those days, especially on Captain James T Kirk's
Enterprise
. I hope I'm not on that one.
Upon examination of the room, I find I am inhabiting the body of Crewman Michael Foster, who has just been on the
Enterprise
and has narrowly escaped death three times on missions with Kirk.
My worst fears are realised.
The Com on the wall activates.
"Crewman Foster to Transporter Room One. Required for Landing Party with Captain Kirk, Science Officer Spock, Doctor McCoy and a few redshirts."
----------------------
I arrive at Transporter Room One, where Kirk, Spock and McCoy, plus three other redshirts are getting ready.
"Right." says Kirk to us all, "If you see any mean looking aliens, don't forget to zap them. Set your phasers on kill."
"Captain" I say, "Should we not try to establish First Contact with any aliens we meet in order to promote peace and harmony between planets?"
Kirk looks bewildered.
"Foster, have you been on something?" he asks me, "We are supposed to zap any bad looking aliens and find any Princesses from other planets to take home, so I can fall in love with them."
He talks to the man at the transporter controls."
"All right, Scotty." he tells him, "Beam us down."
To be continued...