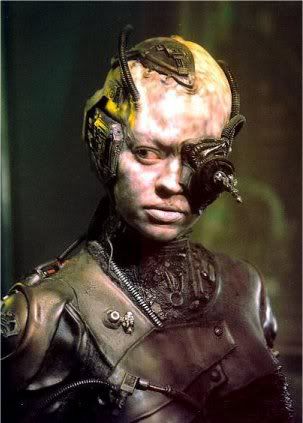 Locutus approaches me.
"Ah, Seven" he says, I've got a small favour I'd like to ask of you."
"What is it, Locutus?" I reply.
"Well, I'm due to be Santa Claus for the children in the
Enterprise
Grotto" he starts, "I'd like you to be one of my Elfs, along with Beverly Crusher, Deanna Troi and Jadzia Dax."
"I will not comply." I tell him.
"Actually, it's an order, Seven." Locutus tell tells me, "Or else I will revoke your privileges around the ship."
"Very well." I say grudgingly, "But the Borg Queen shall hear of this treatment. She will not be pleased. The Borg are supreme!"
"Yes, yes" he says dismissively, "And don't call me Locutus. It's Captain Picard."
-----------------
A short while later, I am dressed in a green outfit with an absurd hat. Crusher, Dax and Troi are with me in similar outfits of different colours.
"Is this what humans are supposed to be like?" I ask them, "It's little wonder the Borg can crush them so easily."
"It's for the children!" Troi tells me irritatingly, "We create a make believe world for them in which we guide them through Santa's Grotto in the holodeck and take them to Captain Picard, who plays Santa Claus."
"Just who is 'Santa Claus'?" I ask.
"He is the patron saint of children, Seven" Crusher goes on, "He delivers toys that have been made by his elves, puts them on his sleigh and takes them to all the children on Christmas Eve?"
This is puzzling.
"Such a feat cannot be accomplished." I tell them, "Is he a member of the Q Continuum?"
"Err, no" Dax replies with a smile. I fail to see the humour.
---------------
I have been told that I am to stand with the children and escort them in, taking them in to Locutus, where Dax, Crusher and Troi will take them right up to him; Locutus is dressed in a red cloak, hood and white beard. Every so often he practices by saying "Ho! Ho! Ho!" or "What do you want for Christmas?" in an absurdly deep voice.
I still fail to see the purpose of it; the Borg Queen will be fascinated by my Report about it.
A few children are gathered by me; some are crying very loudly.
"You shall be silent!" I tell them.
They look at each other then cry even louder.
"If you are not silent, I shall take you to the Borg Queen and have you assimilated!" I inform them with some authority.
"Are you the Borg woman?" a young girl asks me, "I'm Meredith, and my mommy says you will assimilate all of us in our sleep. Have you assimilated Santa Claus?"
"Actually we have" I tell them.
All the children scream and run out of the holodeck. Crusher comes running in from the inner Grotto.
"What was all that noise?" she asks, "Where have the children gone, Seven?"
"I informed them that Santa Claus has been assimilated." I announce, "They chose to scream and leave."
"You did what?" she replies, "Stay there and I'll try and get them back."
---------------------
Some time later, after the children have been rounded up, and taken into the Grotto, Locutus comes out; he looks worn out.
"I don't know how I manage to do this job as Santa every year." he says, "Those children get worse; they cry and are sick over my uniform. It takes forever to get the stains out."
"You have completed this assignment for this year." I say to him.
"That is true, Seven." he replies, "Though I couldn't understand why the first question they asked me was whether I would assimilate them when I bought their toys on Christmas Eve."