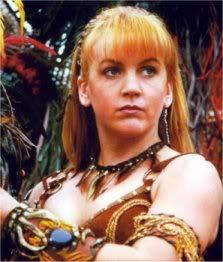 Guest Poster: Karena
----------------
"Just why do you want to take us to your home planet on the
Enterpris
e?" Wes asks me for the umpteenth time.
I give him a prod with my spear and tell him to be quiet, as all will become apparent soon.
Men! They are so impatient.
---------------------
We beam up to the Transporter Room. Captain Picard and Beverly Crusher are waiting for us there.
"Welcome Cadets" he says with an annoyed look, "We shall now be taking you to Wondawowman. I'll have a crewman take your bags to to your quarters."
"That won't be necessary." I reply, "Wesley will do all that for me; come on, Wes. Pick up the bags."
For some reason, Beverly Crusher looks astonished; perhaps she hasn't seen her son do hard work. Far too soft on him, I think. She whispers to the Captain, but it appears he has a slight smile.
--------------------
In my quarters, after Wesley has bought my luggage up and departed to talk to his old friends on the ship, I have a sonic shower, and put my battle armour on so that I can practice in the holodeck with my spear. Firstly, though, I put the monitor on so that I can talk to my mother, Queen Diana of Wondawowman.
Her image comes on the screen.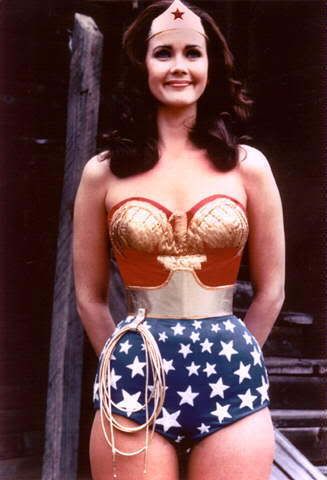 "It is wonderful to see you, daughter" she says to me, "Have you done everything I instructed you to?"
"Yes, mother." I reply, "Wes has no idea that he was chosen as Life Servant by me, and of the challenge by my sister Nexa to take him off me."
"Good" she says, "The Federation are strangely backward in these matters; they might believe that Wesley Crusher has rights."
"That is true, mother" I concur, "However, once we are on Wondawowman, they will be subject to our laws. The Captain of this vessel and Wesley's mother may present some problems."
"Do not worry, daughter Karena." my mother assures me, "I am Queen Diana, and absolute ruler here. They won't be a problem."
------------------
A little while later, after much practising on the holodeck, Wesley, myself, Deanna Troi, Beverly Crusher and Captain Picard beam down to the co-ordinates on the surface. Wesley is looking a little worried, as if he is about to be given a lot of extra ironing.
"Welcome to Wondawowman, Captain Picard, Dr Crusher, Counselor Troi, Wesley, and of course, Karena." announces my mother, "I am Queen Diana, absolute ruler here."
"It is a pleasure, your Majesty" says the Captain, "May I ask why you needed us here?"
"NO YOU MAY NOT!!" she shouts, "You are just a man; I will tell you, and not just respond to your questions."
"Err..in that case, may I ask, your Majesty?" Deanna Troi inquires.
"Of course." my mother replies, "You are a woman. The reason is that since my daughter Karena chose Wesley as a Life Servant, her sister Nexa has expressed an interest and wishes to challenge Karena in a duel. The winner will have Wesley as Life Servant."
Captain Picard, Deanna Troi and Beverly Crusher look stunned.
As for Wesley, he has gone pale.
Perhaps he might be worried that he could lose me and have to serve my sister Nexa instead?
To be continued...