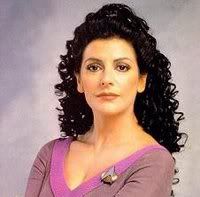 Guest Poster: Deanna Troi
As Bev and I have got some time off from the
Enterprise,
we thought we might find something to do.
Naturally, I wanted to do some pre-Christmas shopping in the Starfleet Mall, but Bev had other ideas.
"Don't keep thinking about shopping all the time, Deanna" she told me, "You can order anything you like online by doing it from the Starfleet BeamOrder website on the
Enterprise
."
This made me pull a face a little (
glum me
!), as there is nothing like going around these malls, window shopping, and feeling those gifts first before obtaining them!
"What about a hike?" she suggests, "The two of us could pick a planet, take some supplies and go for a long walk to see the beauty it has."
"Bor-ring!"
was the first thought I had, but after much persuasion, Bev had got me round, and we were starting to organise what to take.
We mutually decided to go to Deva VI, a small planet that is both rocky with green areas and picturesque scenery.
There looked a lot of walking to do, but I could hardly use that as a defence to Bev, as I shop till I drop in the malls!
giggle!----------
Two hours later, our shuttle was heading towards Deva VI; Bev was smiling away, as she was keen on exploring a new planet. In the meantime, I was looking at the latest shopping catalogue, thinking of where I ought to be right now.
We landed with a bump, but everything was still in one piece; why can we never land evenly?
Bev was all ready with her pack, that contained, drink, sandwiches and a high powered phaser. She was always someone who like to be prepared!
"I think we'll head that way, Deanna." she said, pointing south, "The greener areas are there, and will be better for us; have have you got the camera?"
"Yes." I replied glumly, and we trudged on.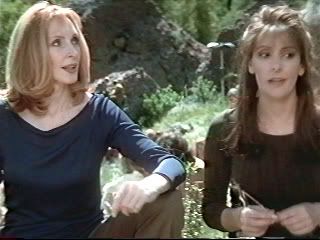 "Isn't this absolute fun?" Bev asks me enthusiastically, "It's much better than those tiresome malls, isn't it?"
Does she really want me to answer that?
"There is a really beautiful waterfall" she exclaims, pointing in one direction, "And look, there is a..."
Bev's talking is interrupted by shots from above that just miss us; we dive for cover.
As we hide, I notice a strangely coloured escape pod nearby.
"I wish we were at the Starfleet Mall, Deanna." says Bev.
NOW she says it!
"Hello ladies" says a familiar voice, as a figure approaches.
To be continued...
--------------------
Author's note:
Don't forget, all the details for submitting your Christmas Party entry are in the post below (25th November)