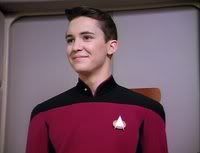 It's very hard doing the housework for two people.
Ever since Karena, the Amazon from the planet Wondawowman has joined Starfleet Academy, I have had to virtually be her slave and do all the work.
The officials at the Academy have ordered me to look after her, and get her used to life here, as she is a new Cadet, and also a Princess on the planet she is from.
Somehow, I can't help feeling that it is just to keep me occupied.
I haven't been able to save the Academy from burning down so often as I used to, althpough I must admit it hasn't actually done this. Though I used to like to experiment with the gelignite in chemistry lessons, Karena just gives me a prod with her spear and say, "Come on, Wesley, you have some of my washing to do."
In the evening, she will go out with her friends while I do all the ironing and the cleaning. Why the Academy can't have everything on automatic I don't know. It's like the dark ages in the 22nd Century here.
Things have been a little odd, lately; Karena has been eyeing me and thinking.
"What are you doing, Karena?" I ask.
"Nothing" she replies, "Just get on with polishing; I have friends round tonight; I can't let them see what a scruffy place. When you've done, go hide yourself in your bedroom, and don't come out until they've gone."
"Why?" I ask her, "Are you ashamed of me?"
"You're a man" Karena tells me, "That should tell you enough. It is a woman's meeting."
--------------------
After the meeting, Karena approaches me.
"I've had a talk with the other women," she informs me, "And also with my mother, the Queen of Wondawowman via videolink. You are to come with me to my home planet. Ask your mother, Beverly Crusher to get the
Enterprise
to take us."
"Captain Picard might not agree." I reply, "He's a busy man."
"He's just a man!" Karena says, with an exasperated air, "Tell your mother to have the
Enterprise
ready to pick us up in two days."
I sigh.
--------------------
Not long after, I am on the monitor to my mother. I tell her the situation.
"Wes!" she says, "Karena can't order the
Enterprise
to pick you and her up just on a sudden whim. It has important missions."
"I know, Mom" I reply, "But when I mentioned it to Starfleet, they said that as she was an alien Princess, we should try and help her as much as possible."
A few moments later, Captain Picard comes on the monitor; I can't help feeling he has an irritated air about him. Maybe I am mistaken?
"Starfleet authority has ordered the
Enterprise
to pick you and Karena up" he says with an annoyed tone, "Have you any idea why she wants to go to her home planet now?"
"No, Captain." I reply, "She won't say."
"Very well, we'll pick you up in two days." he informs me, "While you're on the ship, try not to touch anything."
I wonder why he says that? Strangely, the tutors at the Academy are always telling me the same thing.
To be continued...