Guest Poster: Beverly Crusher


This situation was ridiculous; no one was taking my Wes away from me!
We are here on the planet Wondawowman, and Queen Diana has told Jean-Luc, Deanna and Wes that her daughter Karena, who is a Cadet in the Academy, wants my son as a Life Servant, but her other daughter Nexa has expressed an interest and wants to duel Karena for Wes.
--------------------
"What do we do, Jean-Luc?" I ask him, "We can't this happen to Wes."
"The trouble is, Beverly" he replies, "Is the diplomatic wrangles it would cause between the Federation and the Amazonian world of Wondawowman. We have to tread carefully."
"Mom!" shouts Wes, "I don't want to be a Life Servant!"
"I won't let you, sweetheart." I call back.
Deanna talks to us.
"Perhaps there are a number of options we can take if we ask the Queen? Perhaps I'd better ask, Captain, as she tends not to be fond of men."
Jean-Luc grudgingly agrees.
She goes forward and consults with the Queen. After a while, she stands from her throne.
"Counselor Troi speaks wisely. As Beverly Crusher is Wesley's mother, she will have to have the right of seeing her, regardess of the victory." declares the Queen, "My daughters may not injure each other, but one shall be declared the victor. Karena is too young to have a Life Servant, he may serve Karena as long as he is in the Academy. Should Karena wish him to be a Servant afterwards, the matter will be reviewed."
That sounds like a big concession.
"However." she continues, "Should Nexa win, she will claim Wesley now"
I think I spoke too soon; now I find myself backing Karena.
Nexa steps forward. She looks like a top champion with a huge sword. I'm staying well clear. I tthink the rest of us are doing the same.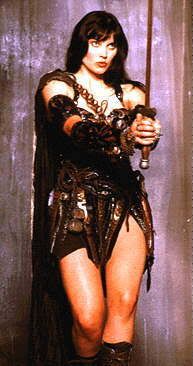 "Karena, my sister" declares Nexa, "It is time for our duel, "Wesley pleases me, and appears to have much potential as a Life Servant."
"You shall not have him, sister." replies Karena, "Come forth and oppose me."
Jean-Luc is having a stress pill; he doesn't like getting caught up in these sort of incidents. Neither do any of us, and Deanna, Wes and myself have one as well.
Karena gets a large pole and begins to hit Nexa with it as she tries to get near with her sword; a few swift manouvres, and Karena gets a scratch on her arm.
That's worried us.
"So, my sister, Nexa" she says, "You would harm your own flesh and blood to get what you want?"
"Indeed I would, Karena." replies Nexa, "I want Wesley as my Life Servant."
As Nexa talks, Karena swiftly moves in, knocks the sword of Nexa to the ground, and then her sister along with it. As Nexa lies strewn on the arena floor, Karena declares victory.
"All your talking defeated you, sister." declares Karena with a smile, "Do not challenge me again."
Nexa angrily gets up.
"Wesley will be mine one day" she tells Karena, "This is not over, my sister."
She stalks off, and Karena comes back to us.
"Well done, Karena." I say to her.
"Thank you." she replies, "We need to return to the
Enterprise
and back to the Academy as soon as possible."
"What's the hurry, Cadet?" asks Jean-Luc.
"Wesley has lots of ironing to do" she tells us, "Plus he has to cook a victory dinner for me and my friends. Come on, Wesley."
I sigh., as I see poor Wesley trudging off.
I thought he had got out of being a Life Servant?