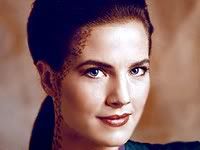 Worfie and I have an appointment with Miss Forrester, one of Alexander's teachers at the children's class here on the
Enterprise
.
When it's an unscheduled request to visit a teacher, it's always trouble. That's what Worfie tells me, and I'm inclined to go along with him.
"You're his father." I tell him, "You don't want me along; I'm just your ummm...friend."
"I need to have you with me, Jadzia" he replies, "To give me guidance. It's not easy being the father of a young boy."
"I thought the Troi woman was his guardian?" I say in a huff.
"Let's not go into that awkward situation." Worf quickly says, "We are here at the classroom."
Miss Forrester welcomes us in.
"Hello Lieutenant Worf" she says, then looks at me, "and you are....?"
"I'm Jadzia Dax....I'm errr....a friend of Worf and Alexander."
"I see." she says in a disapproving manner, as if she understands everything in a moment. I dislike her already.
"It seems like Alexander's grades have been slipping recently." Miss Forrester tells us.
"I will go and severly punish him immediately!" Worf angrily declares, "He has bought shame upon the family."
"That's a little extreme." says Miss Forrester, "I just think he needs a little extra teaching in his quarters in order to catch up."
"I'm a Klingon warrior and Starfleet officer, not a teacher." Worf complains.
"Relax, Worfie." I tell him, "I'll do the teaching."
-----------------------
A few hours later, Alexander and I are in his quarters getting ready for the first lesson. He looks very unhappy.
"I shouldn't be doing schoolwork at this time of day." he glumly says, "I want to be playing my latest computer video game,
Sonic the Hedgehog versus The Borg
."
"Well if you didn't play that so often, Alexander" I tell him, "Your grades might not be slipping at all."
"All right" he concedes, "What are we going to do?"
"Maths and physics" I tell him, "I'm going to set you a problem that is in this book, and you have to tell me the answer,"
I read out a fiendishly complex problem involving warp speed and the position of starships in relation to a nearby planet.
"8.5 Warp Speed." he answers.
I look a little worried, and have no idea whether the answer is right or not. I look innocently at the back of the book, but there is nothing there.
"Is it right?" asks Alexander.
"Errr....I think so."
"You don't know, do you?"
"I think that was a little advanced for you." I say with hesitancy.
"That problem is for the under 10's" he tells me, "I had it last year."
I think for a while. That Miss Forrester hasn't a clue about Alexander. She must be just picking on him because he's a Klingon. I think he's a bright boy.
"Err....class dismissed." I tell him, "Can I join you in your game of
Sonic the Hedgehog versus The Borg
?"
He laughs and hands me a control panel.
This is something I WILL beat him on!