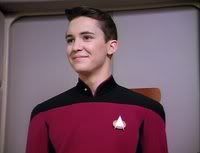 Gee, it's good that the Academy year is coming to an end. I'll be back next year, though, although some of the Professors didn't seem too keen.
"It'll be good when you graduate, won't it, Wes?" one said to me, although I heard him mention to another that we're stuck with him for another year.
Were they referring to me?
Anyway, in the weeks that the Academy is closed, it will give them chance to repair the damaged buildings that are around. There seem so many. Why are there so many accidents? It always seems to be in the classrooms I am in for some reason.
Before the school closes, the Head of the Academy has invited the new Cadets who will be starting in the following school year to visit and see what the Academy will be like.
They will also see veteran students like me who know how the place runs.
---------------------------
A little later, we are all there and we see the new intake; amongst the usual aliens, there are a couple of goths, and a statuesque woman, with long red hair, who has a spear and shield and is wearing upper body armour. A very Amazonian type woman.
A Professor introduces me to the woman.
"This is Karena, from the planet Wondawowman." he tells me, "Karena, this is Cadet Wesley Crusher. We have been stuc....I'm mean he has been with the Academy for some time."
She looks at me carefully from top to toe and thinks carefully.
"You will be my man." she tells me.
"Sorry?" I say to her, "I don't understand."
"You shall serve me in the new Academy year."
"I'm sorry, Karena." I tell her, "I don't want to serve you."
"Wondawowman is a planet with a matriarchal society!" she tells me forcefully, "The men do what we tell them to do. You will do what I say and we shall be a happy couple!"
Karena starts waving her spear at me; at the moment, I'm not in a good position tactically. Perhaps it might not be a good to object. Looking around, I think the Professors are enjoying my predicament.
"Err..on second thoughts, Karena," I tell her, "I will be happy to err..be your man and serve you."
"Good." she says, "Wesley, you will make a worthy servant, I'm sure."
I can still hear the laughter of the Professors in the background."
----------------
Later, I visit the head Professor.
"What can I do?" I ask him in desperation.
"Well, Wesley" says Professor Bentley, while trying to hide a smirk on his face, "We do have to look after the new intake, don't we? Why don't you just take care of Karena? I'm sure she will be scared about coming into a new environment."
"Somehow, I don't think so, sir." I reply.
"Nevertheless, Wesley, you go and make her feel at home when she starts the new Academy year."
I leave the Professor's office and as I close the door, I hear more laughter.
It's going to be a tough Academy year when it opens again.