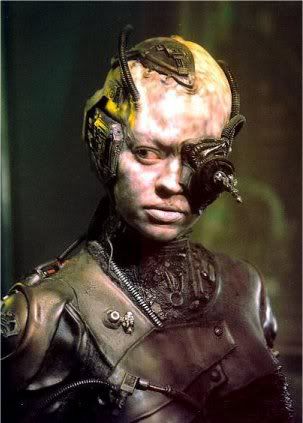 With Locutus and Crusher captured by Taran and his people, it will be up to me to save them, as ome would expect.
The Borg are supreme!
I go round the side to listen in on the conversation. Koth has been sent back to the Shady Beggar Club.
"What is going on, Taran?" asks Locutus, "Why are you leading a rebel group when you asked us to help?"
"Naturally, I was sent to ask for help by the Emperor" he replies, "But he didn't know what position I was really at. Koth and his group are just useful idiots. As soon as the government are overthrown, I shall assume power and crush Koth and his group."
"You won't succeed." says Crusher.
"I think we will, Doctor Crusher" Taran replies me a snarl.
"You don't expect us to let you get away with this, do you?" says Locutus.
"No, Captain" he says with a laugh, "I expect you to die!"
"Take them to the death cell." Taran directs a minion, "Have all the others look for the third one who was with them; she's a Borg drone and very dangerous."
Right now, I should go and assimilate them all, but Locutus expects me to do things the human way. Why does this have to be? We are Borg!
I make my way back to the Shady Beggar Club; there, I meet Alice, who Crusher met earlier and tell her that Koth is being used by Taran. She is livid. I also say that 'Therase' and 'Jada', my associates are being imprisoned.
"Right, Sevena!" she shouts, "The time for action is now!"
She gathers both forces together, who are united, now they know they were used and go out, heavily armed.
I think Alice would make a good Borg drone; perhaps I ought to ask her later?
We all storm the headquarters; we get to the death cell, where Locutus and Crusher are on seperate tables with an industrial laser making it's way higher between their legs. Both are sweating. I destroy both lasers with ease, as one would expect.
"Well done, Seven" Locutus tells me, "You did a great job."
"Thanks, Seven" Crusher says.
I really had to save them; how else can I assimilate them later on, when the Borg Queen tells me to?
Resistance is Futile. We are Borg!"