If we think it is going to be a quiet day, then we can be sure it's not going to be one.
There we were, minding our own business, taking stellar maps and doing scientific resesrch in the Jaka Sector when suddenly our problems started.
"Something is opening up in space ahead of us" announces Data, "It appears to be a transwarp signature."
We all look at each other, as we know the sort of trouble that is; the Borg are going to turn up, and that doesn't usually involve a friendly hello.
A Borg Cube suddenly appears and we are locked in a tractor beam. This is the Starfleet equivilant of having a bad day at the office.
Suddenly, we are hailed and the videoscreen comes on.
The Borg Queen.
"Good morning, Locutus." she says to me, as if she is the boss in a top company addressing one of her lowly employees, "It is good to see you again."
"I am Captain Picard!" I firmly tell her.
"Yes, yes, of course you are, Locutus" she continues, not really listening to me, "I've got a fine task for you to do for me."
"I don't do jobs for the Borg" I angily tell her, in my best Starfleet-Captain voice, although I know it's not likely to get me anywhere here. The Borg Queen is not the sort of creature that one can have a meaningful discussion and persuade her that she might be wrong.
"Oh, I think you will, Locutus" she calmly tells me, "It's either do this simple little task, or we assimilate the
Enterprise
. That wouldn't go down on your record, would it?"
"What is it?" I grudgingly ask her, knowing that I'll have to end up going through with it.
"I just want to take one of our people on board the Enterprise so that she, and the Borg can learn about human behaviour."
"That's ridiculous." I say.
A Borg drone beams on to the Bridge.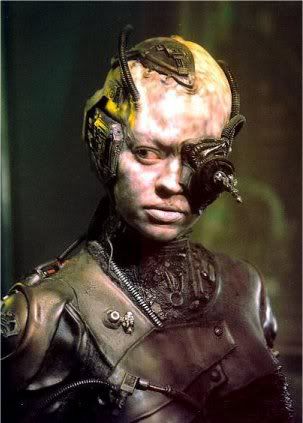 "This is Seven Of Nine from Unimatrix 01" announces the Borg Queen, "You will treat her as a member of the crew; you will not attempt to harm her or change her into a human. Should you try, we will come and assimilate you and other Federation vessels."
"How long are we stuck with...I mean is she meant to be with us?" I ask.
"Not very long, Locutus" she tells me, "We are preparing her for a mission in the Delta Quadrant; it will be good for Seven. She always wins the 'Miss Borg' Beauty Pageant. Maybe I'll have a chance to win now."
I look at the drone; she sneers at me.
"Remember, Locutus," says the Borg Queen, "Don't harm her; she's a member of your crew."
The videoscreen goes off, the tractor beam is released, and the Borg Cube vanishes via transwarp.
"What do we do now?" Riker asks me.
"I'm not sure, Number One. I say, "Perhaps we ought to welcome our new crew member?"
We turn to greet Seven of Nine.
"Welcome to the Enterprise." I say to her, "We hope you'll be happy here."
"Happiness is irrelevant!" she tells me, "The Borg are supreme."
Oh dear.