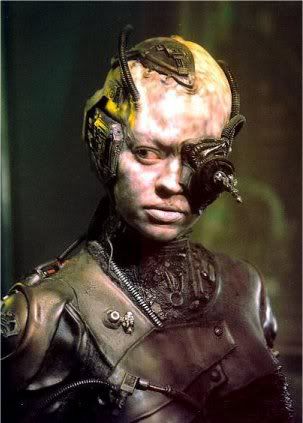 Though you get my thought through the hive mind of the Borg Collective, I understood you wanted a separate view that you could look at in your own free time.
It can be a little hard to concentrate with billions of voices thinking away at the same time. The puny creatures on board the
Enterprise
can't even think clearly with two talking away. How insignificant they are!
The Doctor on board here, a medical nonentity by the name of Beverly Crusher has tried to brainwash me my telling me I was a former human by the name of Annika Hansen.
She told me that underneath, I looked like this:
What lies they do tell! How repulsive!
The Borg are supreme! When we eventually get to assimilate the
Enterprise
, I would like Beverly Crusher to be first in the Assimilation Chamber.
She and a Betazoid named Deanna Troi took me to someplace called a shopping mall last week, in which goods are supposed to be purchased. This seemed a completely illogical procedure, as the shopowners saw me and were all to eager to hand over their goods to them free of charge.
Locutus of Borg is very fussy; he gets very angry when I address him as such, and insists that he be called Captain Picard. He went lived when I said, "When are we going to assimilate the others on the ship, Locutus?"
He had me confined to my alcove for saying that.
When we have our senior staff meeting, everyone tends to look very guarded, just in case they say something they shouldn't. Yesterday, we started a meeting and Locutus suddenly said, "We've postponed the meeting, Seven", while looking at each other slyly. I got up to leave the room, but noticed that no one left without me. I walked back in to find the meeting was still going on.
Locutus looked very red-faced. I told him, "We are Borg! Resistance is Futile!". That scared them all and the meeting carried on.
One of the senior staff is an android, and could not be assimilated. Data, as he is called, is well worth investigating. When the Borg has it's next upgrade, his design might well be worth taking into account.
A race we haven't assimilated yet is named the Trill. There is one of that race here on board by the name of Jadzia Dax. The body named Jadzia acts as a host for the internal Dax. Very unusual. A two part race.
I would like to know one thing, your Highness. How long am I going to be stuck on the
Enterprise
with these awful creatures? A drone friend told me I've only got this job because I get more Christmas and Valentine cards than you do, and I always win the
Miss Borg
Beauty Pageant
, when you come second. I trust this isn't the reason.
Yours in devotion. We are Borg!
Seven Of Nine (Unimatrix 01)