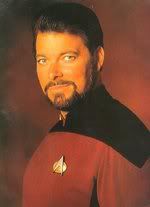 The Cap has insisted that I attend a job interview; I've had so many notes saying I'm on a shortlist, although I have never applied for any of them.
"Nonsense, Number One!" says the Cap, "You really need to get yourself known in Starfleet. Before long, they will forget about you. After all, you don't want to stay Commander on this Starship, do you?"
"Actually, I like it here" I reply, "What Captaincy am I applying for here?"
"It doesn't matter" Picard says, "The important thing is it's the role of a Captain; you want that, don't you?"
"I suppose so." I tell him.
"Of course you do, Number One, "Remember that with the Captain's position, you get a key to the Executive Washroom at Starfleet Headquarters."
I brighten up. "Do I?"
"Absolutely!"
"In that case." I tell him, "I'll go."
-----------------------------------
I'm now at Starfleet Headquarters and am waiting to go in.
"Admiral Gordon will see you now" trills the secretary, and I walk in.
The Admiral looks gruffly at me.
"You didn't knock!" he tells me, "All applicants should knock!"
"Sorry about that." I say, and sit down.
"Did I invite you to sit down?" inquires Admiral Gordon.
"Errr...no." I answer.
"Then why are you sitting down?" he asks.
He picks up a file and looks at it, then looks at me.
"Not very good are you? he tells me, "A bit of a backroom person, content to stay in the shadow of Captain Picard and have the easy life aboard a glamourous starship."
"It's not like that at all!" I tell him, "The
Enterprise
has saved the universe a number of times; I've been there while it's happened."
"Did I ask you to answer a question, Riker?" Gordon tells me aggressively, "I can tell you, sonny, I've saved more universes than you've had donuts. You can be sure, this appointment will sort out the men from the boys"
"Which starship is it sir?"
Gordon laughs out loud.
"Who said it was a starship, sonny?" says the Admiral, "This job is for the Captaincy of the
Candide
."
"The
Candide
?" I ask, "Isn't that the garbage vessel that takes rubbish and scrap to the Forbidden Zone?"
"Got it in one, sonny"
"What happened to the last Captain?" I inquire.
"He died from radiation poisoning?" Gordon answers.
"I heard he only started four months ago."
"That's right" Gordon informs me without blinking, "The
Candide
has ahm.... a fast turnover of crew members. What it carries can have an amount of radioactivity in it. Still, you get used to it while you're there. It has good medical facilities when you start to feel ill."
I start to turn white.
"Remember, Riker" he adds, "There is always a chance of a sideways move to another ship once you've completed that term of duty on the
Candide
, if you can last that long."
"I think I like it where I am, sir." I tell him, and start to leave.
"No wonder you're still a Commander, sonny." Gordon tells me, "All these great appointments come up and you don't take advantage of them. The
Candide
needs more men like you. "
-----------------------------
"You had a chance of Captaincy there, Number One." the Cap tells me in his Ready Room, "The
Candide
is a sturdy ship. You would have had the key to the Executive Washroom."
"If I ever lived long enough to use it." I reply.