Queen Diana takes her place behind the Oracle of Wisdom in her white robes to start the wedding announcement.
Karena the amazon is standing at the front, in ther battledress with wings added on. Wesley has walked up to her with Bev, who now sits down besides me.

"Everything all right, Bev?" I ask.
"Well, fortunately I had some stress pills with me." she replies.
"You don't look nervous."
"They were not for me, Jean-Luc." Bev comments, "They were for Wes."
"Quiet!" Queen Diana speaks angrily in our direction, then carries on.
"We are gathered here today" she starts, "To unite this amazon with this err..male in matrimony. The two of you will stand before me and put your hands on the Oracle."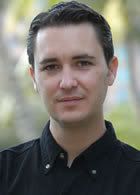 Wesley nervously puts his hand on the Oracle.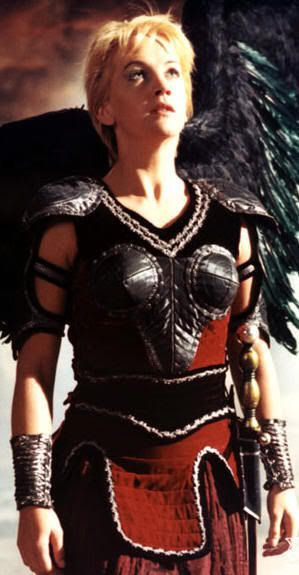 Karena does it proudly, and looks up into the eyes of her mother. You can see who had the nerves!
"Karena." her mother asks, "Do you promise to rule, take responsibilty and control whenever possible in your marriage, not letting others come between you and your Life Servant?"
"I do!" Karena states firmly.
"Wesley." Diana continues, "Do you promise to obey, listen to Karena and do what she says in your marriage, and not to let others come between you and her?"
"Err...I do." Wesley says, although he looks like he will pass out any moment.
"Then, by the power vested in me as Queen of the Amazons." Diana says with a smile, "I pronounce you Amazon and Life Servant. Karena, you may kiss your new acquisition."
Karena grabs Wesley and gives him a long, long passionate kiss lasting five minutes.
When it ends, he staggers away, a little dizzy.
"Hooray!" yells Ensign Britney, who has come in a totally unsuitable outfit, and proceeds to spray rice all over Karena and Wes.

As the pair get in their honeymoon shuttlecraft, with 'Just Married' painted on the back, an extra amont of rice drops out of nowhere all over it.
"Where did THAT come from?" exclaims Bev.
"Q!" I answer, with a slight smile.
------------------
Editor's Note:

My thanks to
Mimi
for this delightful Award below:
I'm really flattered by all the lovely things you said in your post.
Thanks again, Mimi!