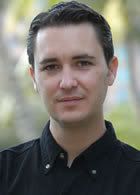 Guest Poster: Wesley Crusher
My new bride, the amazon Karena and I are on our honeymoon on the planet Gemini II at the Starlight Hotel.
After our altercation with the weird receptionist, we are on our way to our room.
"This room had better be good." says Karena to see as we stride to the suite, "Otherwise I'll be back to that reception and he won't know what's hit him."
I can well believe that.
We open the door and observe.
After a moment, Karena looks around.
"This will be sufficient."
I should think so; it has a sunken bath, sonic shower, jacuzzi, a huge bed and....well the list goes on.
Karena lies on the bed.
"My dearest Life Servant." she starts, "Do you not think....."
"What, Karena?" I reply.
"Well, we are on honeymoon."
"Oh." I say in realisation.
-------------------------------------------------------
Several hours pass....
And then a lot more....
And even more....
--------------------------------------------------------
Suddenly the two of us are disturbed by a frantic knocking on the door.
I rush to answer it, greatly annoyed. I almost thought of grabbing Karena's spear.
I open the door quickly; there had better be a good reason for this. I was just....well, never mind what I was just doing.
I see it's Mr Jackson, the Hotel Manager.
"What do you think you're doing?" I ask, "Can't you see the
'do not disturb'
sign on the door?"
"I'm really sorry." he answers apologetically, "But we have to evacuate the Hotel. The Taarl have invaded."
To be continued...