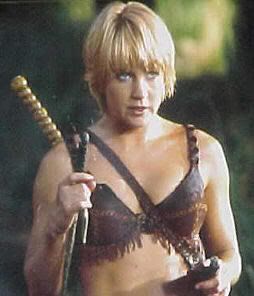 Guest Poster: Karena
Having just married my honeybunch Wesley Crusher, the two of us are on our honeymoon.
We have programmed our shuttlecraft to take us to Gemini II, one of the most popular planets in the galaxy for couples on their honeymoon.
I must admit that it was very useful to have the computer plot the course to take us. Wes and I were too busy err....
celebrating
our marriage in the back of the shuttle.
"
Gemini II within range
." states the computer.
Drat. It was just getting interesting. I'm sure the computer did that just to stop the fun.
Wes and I touch down just outside the honeymoon complex. I get my spear and we head out.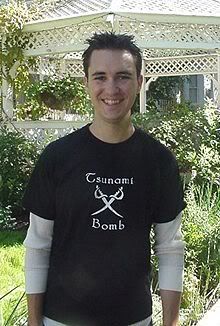 "Do you think we need that, pumpkin?" he asks me, "After all, we're on our honeymoon, not a starship Away Team."
"You never know when we'll need it, Wes." I answer, and we head to the hotel.
Once we enter the Starlight Hotel, we walk to the reception. The man standing there looks rather strange, blond, with a moustouche and dark blazer, like something men on earth might have worn in the late 20th century.
"I'm Karena, and this is my husband Wesley Crusher." I inform him, "We are here for our honeymoon."
"I bet you are, I bet you are, nudge nudge, say no more." he answers.
"Sorry." asks Wes, "I don't know what you mean, just show us to our room."
"Oh yes." the receptionist continues, "Quiet room, lots of privacy, say no more, nods as good as a wink."
At this stage, Wes and I are getting a little irritated.
"Look." I say, gripping my spear firmly, "We're here for a quiet honeymoon, we'll have a '
do not disturb'
on our door and..."
"Ooooh!!" he exclaims, "A
'do not disturb.'sign
....I bet you do, I bet you do, nudge, nudge, say no more...tell me...do you like
sonic showers
....?
That's enough!
Wes is about to answer, but I leap over the counter and hoist the receptionist up on a peg, leaving him hanging by his blazer. I take the room key off him, and as Wes and I walk away, I turn round and smile saying "Say no more!"
To be continued...