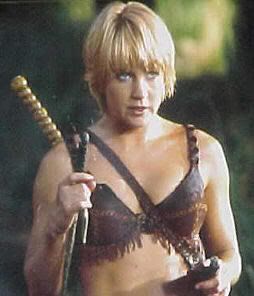 Guest Poster: Karena
As I am getting married to Wesley Crusher in two days, all the wedding preparations are under way.
The Oracle of Wisdom is being laid out in all it's decoration, and my fellow amazons are making sure that their best armour is polished in time for the ceremony.
My mischevous sister Nexa takes me to the top of the Hill of Truth, where we oversee the main city of our planet Wondawowman. Sometimes, I cannot be sure if she is playing tricks on me. She was always jealous of me getting Wesley instead of her.
"Sister." she says, "Our planet will be joyful when you and Wesley get married. It will indeed to be an honour to be acting as Best Woman for you, when the weddings take place."
As we are a female-dominated society, wedding roles are reversed compared to what takes places in most Federation planets.
"Don't forget, sister Karena." Nexa continues, "I shall be putting the pre-wedding bodypaint on you tonight, to ensure that you have good health, luck and fertility throughtout your marriage."
"Just make sure you get it right, Nexa." I reply, "We can't afford to have the wrong symbols painted on, it will look ridiculous."
"Oh, you can rely on me, sister." Nexa answers, in a somewhat sly voice.
--------------
Later that night, Nexa is carefully administering the paint on my back. It is only meant to stay on a short time, but is essential to be there when the wedding service is going on.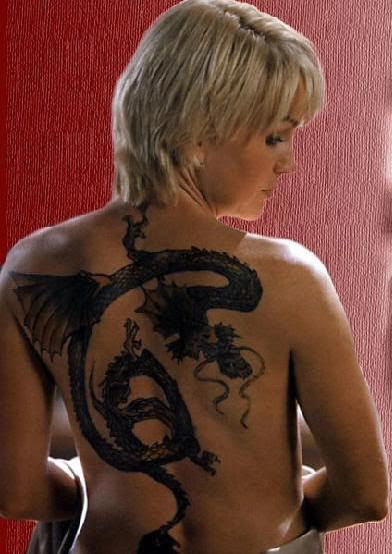 "How is it going, Nexa." I ask.
"Just beautifully, sister." she replies, "Those who see it will think it is just right."
Valana, one of my amazonian friends enters the tent. Nexa tries to push her out.
"Whatever are you having THAT on your back for, Karena?" exclaims Valana.
"Why?" I say, "What's wrong?"
"Well," Valana answers, "It's a traditional dragon design, which all amazonians have when they get married, but it's not Elisia, the Dragon of Good Luck and Fertility, but instead, you have Morosia, the Dragon of Misery."
"Is it?" asks Nexa in mock innocence, "Silly me! I'm always getting the two mixed up!"
I quickly kick Nexa out of the tent, and get Valana to adjust the design to show the dragon Elisia on my back.
The Dragon of Misery ought to be renamed Nexa!