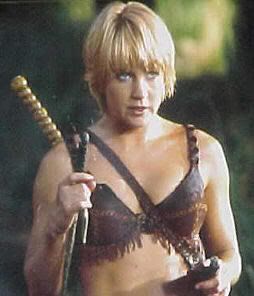 Guest Poster Karena
I'm here in the Starfleet Mall with my mother Queen Diana to look for a wedding dress for myself when I get married to Wesley Crusher.
I say 'wedding dress' in a very loose term, of course. Being an amazon, it will have to be a traditional battle outfit, with a breastplate and spear.
That's romance for you!
Currently, we are in the '
Amazon
' shop, run by Helena. We are going through possible items that might be suitable.
----
"Oh, I don't think that spear is sharp enough!" says my mother, "We need it razor sharp to show what a tough woman my daughter is."
"We can always have it sharpened for you, Queen Diana." Helena insists, "We can make it so sharp it will cut the air in two. Now come and see these dresses."
She leads us to a section named
Amazonian Wedding Attire
.
My mother's face lights up.
"Ah, now this is the sort of thing I've been looking for." the Queen comments, "Don't you agree, daughter?"
"It looks lovely." I answer, "The ideal sort of thing to cast fear into any Life Servant."
"It will need a breastplate, though." my mother adds.
"I have the very thing." Helena answers, and brings out a matching plate.
"Perfect!" Diana says,while looking at some weapons "Now how about that sword?"

I go to the changing room, put all three on.
When I come out, both my mother and Helena agree that they look just right. As I wave the sword, I look so fearful, a customer about to enter the shop suddenly runs away.
"I can see your daughter is going to have a very special honeymoon night." says Helena, with a smile.
We are about to leave, when I see a special line of bridal clothes called "
Valkyries
."
"What are those?" I ask.
"Ah." answers Helena, "That is a very special line of bridal clothing for top amazons."
My mother is offended.
"My daughter is a Princess and is therefore a top amazon." she says angrily, "Let's see what it is."
I try it out, and know this will be my wedding day battle dress.
"I want this one, mother." I say.
"I agree, Karena." she replies, "It suits you perfectly. What a magnificent outfit."
We pack it all up and leave the shop, very satisfied.
Wes will get a surprise on his wedding day!
-----------------
Editors Note:
For obvious reasons, Karena's wedding day battle dress will not be shown here until the day she gets married. We can't let anyone see it beforehand, especially Wes. It's bad luck!