I'm walking the grounds of Starfleet Headquarters with Beverly and Seven of Nine.
Two days ago, I had to be interviewed for an Official Report by Admiral Bullock. He was most critical of how much it costs to run the
Enterprise
, as it is attacked by alien hordes, and also some of the strange people I have as senior staff. Bullock said he would write his Report and let me know.
It could mean that I'm put out to pasture!
--------------
"Don't be so concerned, Jean-Luc." Bev tells me, "One look at your record will be enough to say what a valuable asset you are to Starfleet. They can't afford to let someone like you go."
"I think this Bullock is the problem, Beverly." I say, "He doesn't like me, and clearly thinks that Starfleet should be run by younger men, with dynamic Captains who shoot first and ask questions later."
"That's how it was in the 23rd Century." she reminds me, "Fortunately we are more civilised now."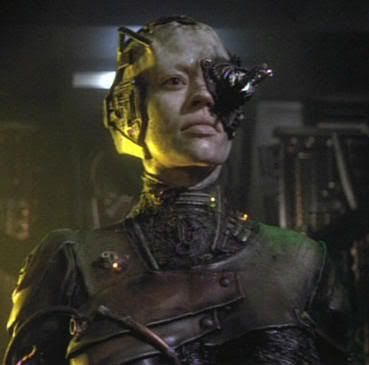 "If you want to, Locutus." adds Seven, "I could assimilate this Bullock human for you."
"No Seven!" I answer hastily, "We can't solve all our problems by just assimilating everyone who we don't like the look of."
"Why not?" replies Seven, "The Borg do. Only we assimilate those we DO like the look of as well."
Sometimes I think Seven has a dry sense of humour or she is deadly serious. I'm not sure when she is using either.
Ensign Britney approaches us with T'Pol. Seven tells them about Bullock and his Review. Britney laughs.
"Is
China Shop
still here?" Britney laughs, "All the Cadets used to call him that, as in
Bullock In A China Shop
. I'm surprised he hasn't been fired yet."
"What do you mean?" I ask.
"Well, the Admirals used to keep it very hush-hush." she confides, "They don't like any of their own involved in scandal."
All of us crowd round, eager to hear more from Britney.
"I don't want to go into too much details." she says, "But it involved a female Admiral as well as Bullock, plus a banned holodeck program called
Daisy Goes To The Doctors
. Starfleet thought it best to whitewash the event rather than throw the two of them out. Still, us Cadets at the time have ways of finding things out."
The rest of us look stunned. A lieutenant approaches me to say that Admiral Bullock wants to see me.
I enter his office, casually whistling.
"What's that you are whistling, Picard?" Bullock asks, "Don't you know this is serious?"
"Certainly, sir." I reply, "I was just whistling
Daisy, Daisy
. Do you know that song?"
Bullock looks a little uneasy, "Well yes."
"It's a favourite name of mine, so cheery" I say, "Does it mean anything to you?"
"Of course not!" he snaps back, "Now this Official Review..."
"I have
DOCTOR
Crusher outside, sir." I tell him, "Have you met the
DOCTOR
?"
Bullock grimaces and nods, "I get the point, Captain Picard. Despite a poor Review, I've decided that you should stay with us in view of your exemplary record."
"Thank you sir." I answer, and leave with a smile, rejoining the others.
"That's great." Bev tells me.
"Yes it is." I say, "And the next time Ensign Britney is due to go in the brig, we'll let her off."