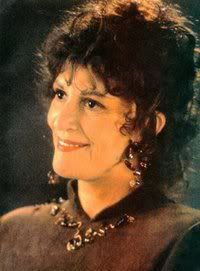 Guest Poster: Lwaxana Troi
It's time for me to have a little chat over the video viewer with my darling daughter, Deanna.
Sigh.
If I had been on the
Enterprise
, instead of the Betazed Ambassador, I would have ensured that she and Will Riker got married a long time ago. I'd have been dragging her up the aisle.
As Daughter of the Fifth House, Holder of the Sacred Chalice of Rixx, and Heir to the Holy Rings of Betazed, getting Deanna married is a prime ambition of mine.
The screen flickers on, and Deanna appears.
"Daughter!" I exclaim, "It is so wonderful to see you again, although you and that delightful Will Riker visited not too long ago."
"Hello Mother." Deanna says, somewhat irrritatingly, "Yes I remember that. I am still squirming with embarassment over what happened then. You never left poor Will alone, with all those less-than subtle hints of yours."
"Whatever do you mean, my darling?" I say innocently, although I know what she is talking about. I had hoped Deanna had overlooked it.
"You know very well what I mean, mother." she says firmly, "Following Will and humming
I'm Getting Married In The Morning
,
Chapel of Love
or the
Betazed Wedding March
."
"I have to help your romances along, dearest." I stress, "Otherwise you'll end up left on the shelf, like your Great Aunt Philip."
"Yes, well there were reasons for that we don't talk about." Deanna says dryly.
"I think there's more chance of that Borg copy of yours getting married before you do, daughter." I reply, "Besides, that young Wesley Crusher is getting wed to that amazon. He's far younger than you are!"
"Mother!" she exclaims in exasperation, "It's the way Will and I have chosen to be. Eventually, we may get married, but we're in no hurry."
I sigh in despair. "Do you know whether Wesley's wedding will be like the Betazed ones?"
"Of course not, mother." she answers, "Everyone will be wearing clothes."
"Such a pity." I say, "I think our traditional naked weddings, in which the bride and groom, plus all the familes have to attend without wearing anything is delightful. It certainly helps break the ice between families."
"Everyone will be in their wedding outfits, mother." Deanna tells me.
"In that case, I'd better find a new hat and a dress." I reply, "It seems so much cheaper to do it the Betazed way."
Deanna sighs in exasperation.
"Goodbye for now, mother." she says.
"Goodbye my darling." I reply, "Always a pleasure to talk to you."