At last, I've managed to get on an archaelogical dig!
There's nothing so good as being able to be around some old fossils, unless, of course, it's seeing a Conference of the senior Admirals of Starfleet!
Anyway, I'm here on Darius VI, where the remains of an ancient civilisation have been discovered. As a special favour, the government has allowed me exclusive access for two days, so no one else can bother me while I'm here.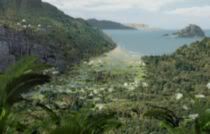 It's a very rocky area area, somewhat dangerous to be around. This clifftop looks a little precarious.
I think there is a fossil just near the edge.......AGGGGGGGHHHHH!
I tumble over the edge and plummet over the side, hitting my head as I fall. Aren't there times when you were told not to go near a cliff top?
When I hit the very rocky ground and black out.
Eventually, after what seems like an age I wake up. Phew! I have a splitting headache. I'll have to get back to...errrr.. I'm not sure.
Well I'll need to. After all, I am..errrr...I can't remember.
Any ideas? I'd like to know who I am.
A figure approaches me. Perhaps he can help me?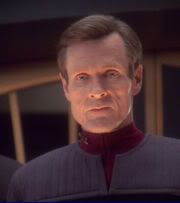 "Hello." I say, "I've had an accident, and seem to have lost my memory. Do you know who I am?"
The man smiles, as if it is his lucky day.
"Certainly." he replies, "You are Agent Picard of the secret Starfleet society Section 31. Your cover is that you are posing as Captain Jean-Luc Picard of the Starship
Enterprise
. In truth, you pass all secrets about the ship and it's crewmembers to Section 31. I am the leader, Agent Luther Sloan. You always report to me."
Now it's all coming back to me. Yes, I'm Captain Picard of the
Enterprise
. I must admit my memory is a little patchy, though.
Hopefully, it will all clear up after a while.
Meanwhile, I'd better get back to the
Enterprise
and carry on spying for Agent Sloan.
To be continued...