"Jean-Luc." Bev asks me desperately, "I need you to come with me to Wondawowman."
"Beverly." I reply, "I was just about to go on that archealogical dig on Darius VI. It sounds a fun expedition."
"Nonsense." Bev answers, "Those old fossils have been there millions of years, they can stay there a little longer. This is important. Queen Diana wants to talk to me about Wesley and her daughter Karena's wedding."
"That's just it." I say, "She's the leader of a group of amazons. The last thing she wants is a man around."
"You're right, Jean-Luc." She concedes, "But I need the moral support, and this meeting is between the mothers of the wedding couple, and I don't want Diana to railroad me into getting the wedding plans all her own way."
"Shouldn't Wes and Karena have some say in all this?"
"That won't happen as Diana is the Queen." she answers, "Karena has let her mother do all the planning, so I in turn have got to help Wes out."
I sigh.
"Very well, Bev." I say. She kisses me in gratitude.
I wonder how many men have men persuaded into doing something they didn't want to this way?
-----------
Several hours later, our shuttle has reached the planet Wondawowman. I have instructed Riker to make sure there are no wild parties, Ensign Britney behaves herself and that Seven of Nine does not threaten to assimilate any visiting dignitaries.
When we land, the two of us are greeted by Queen Diana.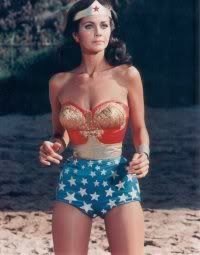 "Welcome to Wondawowman, Beverly Crusher." she says warmly, "It is so necessary for us mothers to get together so that the plans can be drawn ....what is HE doing here?"
Diana glances in my direction.
"I've bought Captain Picard so he can help me with the planning." Bev announces, "I hope you don't mind?"
"But he's a MAN." Diana says with distaste, "What possible use will HE be?"
"He gives me good advice." Beverly says firmly, "However the ultimate decisions will rest with you and I, Queen Diana."
"Very well." she says grudgingly, as if agreeing to a painful operation, "He can stay, as long as he doesn't interfere too much."
It's good to feel wanted, isn't it?
To be continued...