Guest Poster: Ensign Britney
This is cool!
I'm on a solo undercover mission to save the Federation from the destablising influence given by the Dregs of Society.
This group are resurfacing, and Captain Picard needs someone to go undercover into their organisation in order to find out what is going on. Apparently, they thought that none of the Dregs would know I was from Starfleet.
---------------
The
Enterprise
has beamed me down to Earth.
I've put my dark wig on, got dressed in my best outfit and have decided to walk around the area in San Fransisco where Dreg counter-culture is at it's highest.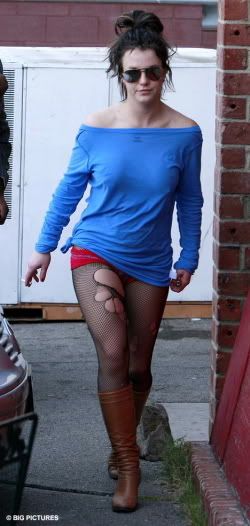 I get mixed reactions from certain people; some think I'm naturally one of the Dreg group, some others look disgusted, as if I am an alien.
Actually, I AM an alien. I'm from the planet Delta.
How am I going to get anywhere? This undercover lark isn't going to help unless I can't get under someone's cover. I'll have to start taking a few chances, like I did when I bought that new flavour chewing gum.
Approaching me is a woman who has the air of a Dreg.
Actually, I love that outfit she is wearing. I'll have to remember to ask her where she got it from if I can get into the organisation. Come to think of it, it might be a good way opening line.
"Cool threads, sistah." I tell her with a smile, "I'd love to wear some outfits like that."
"No problem, honey." she replies, "We have plenty at the little group I'm in."
"Which one's that?" I ask hopefully.
"Hey, we're the Dregs of Society!" she tells me triumphantly, "We're gonna take this 'perfect' world apart with our secret goings-on!"
"That's cool." I say, "I've always wanted to be in that gang. I'm a Deltan, and as you know we're real free-thinkers and don't like things to be 'normal'. whatever that is."
"A Deltan?" she exclaims, "That's brill! We always need them in the Dregs, as they are our most efficient members. I'm Tamara. Who are you?"
"I'm Britney." I tell her.
"Good." answers Tamara, "Come with me and I'll take you to our secret Dreg HQ, where you'll meet a lot of cool people. I'm going to get some bonus points in my salary this month for recruiting a new Dreg member."
I go along with her. Though I'm getting well in, I can't help feeling that she is a little like me. I hope I'll be able to accomplish my mission. Maybe I have a hint of Dreg in my heart?
To be continued...