Guest Poster: Ensign Britney
Yay! I love it when a mission is going well, like mine appears to be.
Tamara, the member of the Dregs of Society that I've met is taking me to the Dreg HQ. My mission is to infiltrate this counter-culture movement, which is gathering pace in the Federation, and is planning to overthrow the peaceful society on Earth.
I am taken to a secret underground chamber within an office building. No one would suspect the Dregs are here. The elevator opens up and the two of us go forward, where a group of strangely dressed individuals are around.
I say strangely dressed in the eyes of regular people, but to me they look perfectly normal. I could be dancing with them and my soulsistah T'Pol at the
Cafe AGoGo Nightclub
.
"Look who I have here!" exclaims Tamara, "This is Britney; she's a Deltan and wants to join the Dregs. She looks like she'll be a fab asset to the group."
"Well I don't like her!" says a sour voice.
"You never like anyone, Vyla!" snaps Tamara, "Britney is one of us, now."
I start to feel a little guilty, as if the teacher in class is declaring that someone has done something naughty.
"Well I DO like her!" says another voice from the rear of the room. A figure steps from the shadows and approaches me.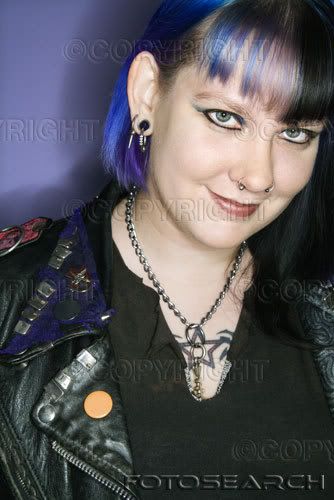 "Hello, Britney, honey." she says, "I'm Desdemona Dreg, leader of this group. It's a pleasure to welcome you to us. We need more Deltans. They are so good at their anti-Federation operations."
"Don't be too sure about it, Desdemona." Vyla warns, "There's something about this Deltan that I don't like. Are you
really
one of us, Britney?"
"Err...yeah..sure." I reply hastily.
"Vyla!" Desdemona shouts, "You should be grateful for the members we get. We didn't have very many for the Christmas Dreg Dinner Dance last December. Fortunately, membership has quadrupled since. Britney is one of us and is now my friend. We'll all be going on the big mission soon. That includes her."
My ears lift up at the sound of the words
'big mission'
like those of a rabbit when they hear something...or a Vulcan or Ferengi."
"Err...what 'big mission' is that, Desdemona?"
"We're going to the penal colony, sweetie." she replies, "We're gonna break my brother Dirk Dreg out of there so that he can lead us all to a triumphant Dreg victory."
I go and look outside. My heart is sinking.
The Dregs' clothing and lifestyle are my kinda people, but their criminal activities are not. Am I betraying them if I can lead them into a trap at the penal colony? Anyway, I can't get any information out to the
Enterprise
. The Dregs are watching me closer than a three-eyed walachi bird.
These sort of choices are harder for me than picking what style of Dr Martens boot to wear.
To be continued after the weekend
TWQ
...