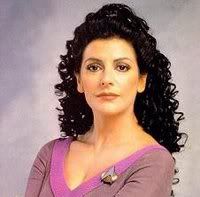 Guest Poster: Deanna Troi
"What is it you want, Counselor?" asks the Cappy as I enter his Ready Room.
"Actually." I tell him, "I think it was about time I got some new clothes for my spring collection."
I'm sure I can see the Cappy trying to suppress a giggle as he asks what I need any more clothes for.
"Being a Counselor is a matter of image, Captain." I say, "It's important that I look right for the weird people.... I mean the clients I have. My office needs new furniture as well. That couch is getting well worn with all the people that have to lie on it."
"It sounds like you just want some new clothes, Deanna." he comments.
I get annoyed at this suggestion, even though he happens to be right.
"You'd still have me looking like I used to, with my hair looking awful" I complain, "If I didn't have my annual spring update."
"Starfleet can't afford to clothe it's Counselors in specialist outfits." the Cappy complains.
"Why not?" I retort, "I thought currency had been abandoned in the Federation."
"We don't get uniforms and starships built on the goodwill of others ." he tells me, "Trade is important."
After realising he won't win against a woman, he gives me a budget to spend on.
Yippee!
Shops here we come!
----------
Now I'm in the Starfleet Mall, and looking for the shop that I want. There it is...
'Counselors R Us
'. This great place has eveything the Starfleet counselor could want.
"Ah, we have Deanna Troi from the flagship vessel
Enterprise
." says a greeting female voice as I enter.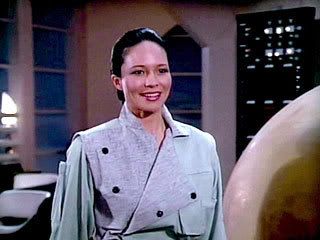 "Hello, Alexis." I tell her, "It is good to see you again."
"It is a pleasure to see you, also, Deanna." Alexis replies, "I had my entire staff on standby after I received your call, all ready to give you the very best of attention.
A few hours later, all the furniture is ordered for my office, plus more than a few for my own quarters, plus plenty of new clothes for my wardrobe, all ready to be beamed up to the
Enterprise
.
I look at one of my new outfits in the mirror.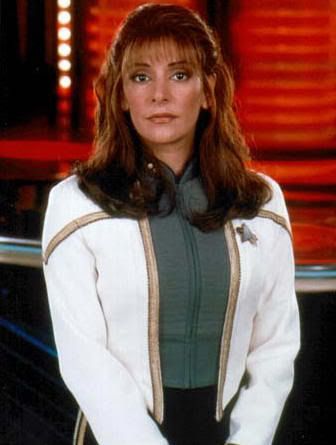 "I must say, Deanna." Alexis , "Your Captain Picard is most generous with the budget that he gave you to spend."
Oh, I spent a lot more than I should." I tell her with a giggle, "I will tell him about your 'no return' policy on goods though, when he protests."
Ah, we women can be devious!
giggle
!