Guest Poster: Q
With things so slack around the Q Continuum, events are just
bor-ing
. The rest of the council have barred me playing Interplantary Pool with three planets and a giant comet. They say we beings should be more responsible.
How stuffy can you get? I think that they must be getting old. Not that us Q beings ever grow old, but that's beside the point.
The only way to bring some brightness and to cheer me up us to visit my old friend Jean-Luc Picard on the
Enterprise
. I know he loves to see me and have a chat.
All right; that's not exactly true. He can't stand me dropping in, but I enjoy winding him up.
----------
I appear on the Bridge, wearing a Mexican outfit and singing a typical song extra loud, just to get him going.
There is nobody there; the Bridge is empty.
"What's going on!" I say to myself, this is not good.
Looking outside, I see the ship is in Space Dock.
Suddenly, the Bridge doors open, and a little old lady comes in with a mop, water bucket and a cleaning pan. A cigarette is hanging out of her mouth.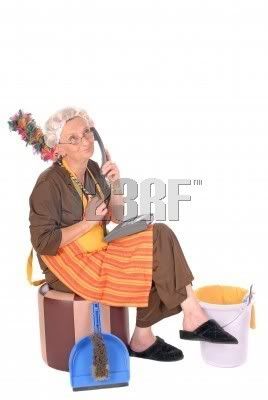 "Out of the way, dearie" she says, wiping the floor underneath me, so I get wet, "You shouldn't be here."
"Who are you?" I reply, "Where are the crew?"
"Don't you know it's Christmas, dearie?" the woman tells me, "I'm Edna Smith, the Starfleet cleaning lady. The crew have all gone for their Christmas break, leaving me to work my fingers to the bone in making this place look presentable."
She sits on her bucket for a moment, takes a drag on her cigarette, which makes Edna emit a wheezing cough that could strip paint. She then lights up another cigarette.
"I'm trying to give them up." she tells me, "I'm doing well. I used to smoke three a time, now I only do one a time."
Another wheezing cough later, Edna gets up, throws a half-smoked cigarette into the water bucket and lights another one. Her mop goes into the water bucket and carries on cleaning.
I decide to go somewhere else. The fair Lady Kathryn Janeway must be keen to see me. After all, those on
Voyager
haven't got anywhere to go.
Before I do leave, I blink, and the
Enterprise
is spotlessly clean.
-----------------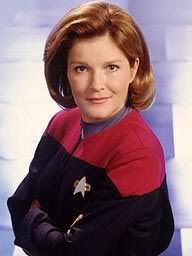 "What do YOU want, Q?" is Kathryn's first words when I appear on the Bridge of the
Voyager
.
"Why, my dear Kathryn." I say in a happy voice, "It is merely to wish you the compliments of the season."
"We'll all wish you a very Happy Christmas if you bring us back to Earth." Tom Paris pipes up. How annoying.
"You may wish that." I reply, "But it is against the order of things. You have the ability to get home by yourselves."
"Why are you here, Q?" Chakotay comments sourly, "Did the
Enterprise
throw you off?"
I give them all party hats and get Christmas music to play around the ship. A lot of the crew smile at this reminder of home.
"Thank you for that, Q" Kathryn says with a smile, "It is good for morale."
I suddenly produce a mistletoe and hold it over Kathryn hopefully.
"Don't push it, Q" she warns me.
Before she knows it, I have given her the fastest of kisses and vanished back into the Continuum.
That's the fun of being a Q entity. One can get away with things like that.