Can't anyone get a good night's sleep around here?
Recently it was Q who appeared from the middle of nowhere to disturb me as I was catching some zzz's. Now it's another character.
"Good evening, Captain" says this mysterious figure, "Sorry to wake you up in the middle of the night, but this is rather important."
"Who are you?" I reply indignantly, "The security monitors will note that you have beamed on, and Mr Worf will soon put paid to you."
"Oh, I don't think so, Captain." he continued, "We in our group are equipped with special devices that allow us to circumvent that sort of thing."
"So just who are you, then? I ask.
"Ah, allow me to introduce myself" he says, "I am Special Agent Sloan from Section 31."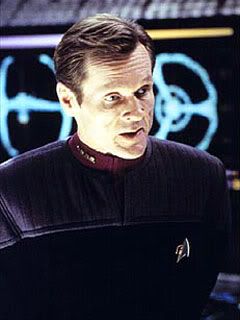 "I've never heard of Section 31" I tell him.
"Of course you haven't." Sloan replies, "We are an ultra-secret covert organisation that operate on behalf of Starfleet, although technically we don't exist."
"I've never read about Section 31 before, Sloan" I say.
"That's the point, Captain" he says, as if explaining to a child, "Our existence is only known to a handful of people. Not even the Head of Starfleet knows of us."
"So why are we talking now, and telling me about Section 31 now?" I ask suspiciously, as if I think I know what the answer might be.
"The truth is,Captain" he answers, "Is that you've impressed us recently with your covert activities. The mission you went on with Doctor Crusher and Seven Of Nine was very good, and we at Section 31 think you would make a fine addition to our number."
"I'm a starship Captain, not a spy!" I tell him.
"Oh, now, Captain." Sloan replies, "The word 'spy' is far too crude. We prefer the term 'Section Operative' to what you say."
"Well, I don't want to be a Section Operative, either." I clearly say.
"Think about it, Captain." he presses, "You could still have your own position and be a Section Operative at the same time. It means you would be covertly working for us, and none of your crew would be any the wiser. Actually, you could start by investigating your own staff."
"What does that mean?" I reply angrily.
"We have had our eyes on them for sometime" he tells me, "One can never tell when outside forces might have got to them."
"Give me an example." I challenge him.
"Look at Worf." he goes on, "He's a Klingon; we've always had trouble with that race. Data might have had his programming altered by a computer expert, or he might actually be his brother Lore. Geordi La Forge's visor might have affected his judgement. Deanna Troi's mind might have been altered by a telepath. Seven is only restrained from assimilating us on instructions from the Borg Queen. Jadzia Dax may have been affected by some of the Dax hosts..."
"...And I suppose Beverly Crusher is suspicious because of her red hair?" I sarcastically tell him.
"Now you're getting the idea." Sloan continues, "Believe me, Captain, you'll be perfect at Section 31. We need devious people who will stab their friends in the back, both literally and physically."
"You're crazy" I reply.
"We can send you on a Section 31 Induction Course." he enthusiastically says, "It'll be great fun."
"I think it's time for you to go, Sloan." I angrily tell him.
"All right, Captain." he smiles, "Potential recruits always have the same initial hostility, but after a while, they can't wait to join. I'll be talking to you again sometime in the future."
I turn round to tell him to forget it, but Sloan has disappeared.
I ask Worf if any beam-ins have been registered and he says negative.
It seems to me that Section 31 might be a problem for me; as if I don't have enough already.