Wesley will certainly enjoy me dropping in on him at the Academy before the Scholastic Year starts.
I know he likes to see him mom; we might be going out for some fun shopping, or have a good chat.
----------------
I beam down to the Academy grounds, straight on to the well-kept lawns.
Immediately, I hear the complaints from a very familiar voice; Boothby.
"Listen, young lady," he says to me, "I'm tired for telling everybody not to beam on to my lawns; this isn't a Landing Point. Use the proper co-ordinates and beam there!"
"Sorry Mr Boothby" I say apologetically, and gently walk on the grass until I reaching the main pathway. Boothby growls to himself, muttering a few things that I'd care not to repeat.
Eventually, I find Wes's Academy apartment.
I knock firmly on the door.
"Hi Wes!" I call out, "It's me, your mom, I hoped we could take in a couple of hours at the Starfleet Mall."
The doorway suddenly opens and a red-haired young woman in a warrior costume greets me with a surly look.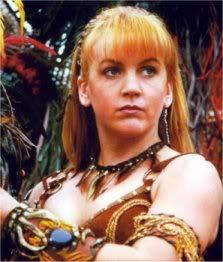 "Go away!" she tells me firmly, and closes the door.
I knock the door again.
"Does Wes live here?" I shout, "I'm his mother, Beverly Crusher."
The young woman opens the door, looks at me with great suspicion, and reluctantly lets me in. She doesn't exactly seem to be the friendly sort.
"I am Karena from the planet Wondawowman" she informs me, "Wes is my servant, and will do all my work for the coming year."
Did I hear that right?
I hear a voice from inside; the kitchen area. Wes comes out.
"Gee, hi Mom" he tells me, "I was just cooking lunch for Karena and myself; do you want to join us? I've been rather busy, after cleaning the sitting room and polishing the bathroom."
"Err....who is Karena?" I ask delicately, "Is she your err...girlfriend?"
"Wes is my servant!" Karena emphasises, "On Wondawowman, us Amazons are a matriachal society. Men are just slaves, there to serve us."
"Well, Mom" explains Wes, "The professors at the college thought that Karena might need some help in her first year, as she was used to being served. I was chosen unanimously by all of them to do the job."
"Who is your servant?" Karena asks me.
"I don't have one" I reply, "As Chief Medical Officer on the
Enterprise
, I am the top ranking medical official there. I even have the power to declare a Captain unfit for duty."
Karena sounds very interested at this.
"Excellent!" she delares, "I shall endeavour to become Chief Medical Officer, or failing that, the Captain of a starship. The crew will all do what I say, or they shall get a taste of my spear."
"When is your Tact and Diplomacy Course coming up, Karena?" I inquire, as she may well need it.
"The Professors seemed to suggest I go there first of all." she tells me, "But I shall ignore that part. It's battle tactics that I'm more interested in, and finding out how to get the other sides to surrender."
Oh dear, I feel she has a lot to learn.
"You and I will get on well, Beverly." Karena informs me, "We are both tough redheads who will not tolerate any disobedience."
She slaps me on the back and goes back inside, leaving just me and Wes there.
"Are you sure you're safe here, Wes?" I ask him, "She looks a little hard to handle."
"Don't worry, Mom" he replies, "We get on alright, though things can get busy at times. I'll have to say goodbye for now, as I'm got to do a little ironing to do."
That's my Wes.