This weekend, TWQ (The Weekend Question) looks into car tastes.
If money were no object (and you could drive), which car would you select? It does not have to be a car that exists now.

My answer is:

I would choose is a '70's style
Stingray Corvette
(below)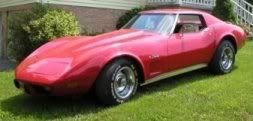 Alternately, an old-style
VW Beetle
would be good as well.
Now it's over to you....