Dear Seven Of Nine,

This is what happened next in the story..
-------------------
I am looking distinctly worried. The Borg Queen Deanna Troi certainly had some attraction that the drones hadn't seen before, and their loyalty was starting to waver. I suppose me threatening to disconnect them if they didn't perform up to standard might have turned them off me slightly.
With her skin-tight outfit, she was starting to appeal to them.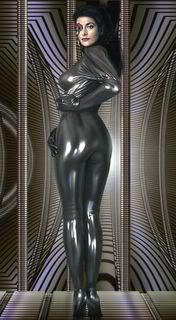 "Come on drones" she says alluringly, "We don't need this Borg Queen as your leader. Rally behind me, and we shall crush all in our path."
"Don't be fooled by imitators from another universe" I tell the drones, "I have always treated you well, let you rest in your alcoves so you regenerate. This creature will keep you going until you drop, never letting to rest."
The drones are starting to get confused; before, life was simple. I just told them what to do, they went and assimilated people, came back and regenerated. We were all happy. We didn't want any trouble from this one.
I have to exert some authority, otherwise I might end up in the Borg Brig, or being disconnected by the Troi Borg Queen.
As the drones look entranced by her speeches, and the male ones by her body, I sneak up and grab her. She lashes out, but I hit her firmly, pinning her to the floor so that she is unable to move. She struggles vainly.
"I am the true Borg Queen!" I tell her, "You are just an interloper from another universe."
The drones get up, unsure of what to do at first, with the Troi Queen lying on the floor confused, but decide to stay still in case I notice their loyalty isn't what it was.
While she looks up at me, I tell her what her alternatives are.
"Now listen, Troi" I say with a menacing tone, "This is what you can do; the Borg can always use a good Borg Queen. You can either get put back in your Escape Pod and let go or we can give you another Cube to command. However, you can't go near the
Enterprise
while Seven is on board."
She looks disappointed.
"What about Deanna Troi, who is on board?" she asks, "I want my revenge on her."
"Oh, you can get her" I say, "If you can find a subtle way of doing it; perhaps when she's away from the
Enterprise
."
The Troi Queen smiles.
"Agreed." she says, "I will serve the Borg well."
"I'm sure you will." I tell her, "I look forward to knowing how you get on. I shall put you in control of the Unimatrix 02 Cube, as the leader has just retired and is now enjoying her pension."
"Excellent!" she says, "A lot of assimilating will be coming from that Cube from now on."
I 'm sure there will; the Troi Queen does seem to be heavy-handed, doesn't she? Perhaps she needs a course in Cube Management and Diplomacy?
------------------
That's it, Seven. Currently, the Troi Borg Queen is going around with her own Cube, assimilating to her heart's content, enjoying life to the full. Should she ever come across Deanna Troi, there will be trouble.
Best Wishes,
The Borg Queen.