My dear Seven of Nine
,
I hope you are picking up lots of information about human characteristics while you are on the
Enterprise
. It will come in useful when I return to collect you and we assimilate them.
I'm sending you this account of an incident that just happened on Unimatrix 01, which is my Cube, and where we sent you from.
-------------------------------
Everything is going normal for me today; I have just composed a list of planets and races that I would like to be assimilated by the end of the week. The drones will plot a course to take them all in the fasted way, so we can all be resting in our alcoves without a problem.
Suddenly the Cube scanners identify a Borg escape pod; the strangest part of it is that the signature of it is not from this universe. It seems to have come from somewhere else.
With curiosity, I send out a hail and ask the passenger to identify themself; eventually an image flashes on the VidScreen.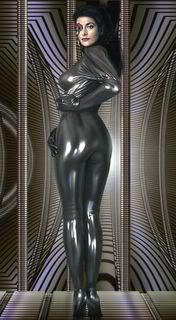 "She looks like that annoying Deanna Troi from the
Enterprise
." I said to myself.
"This is the Borg Queen Deanna Troi" she continues, "I request to come aboard your Cube."
Naturally this amazes me; where did this Borg Queen come from? I use the tractor beam to bring her in.
When she emerges, I see she has a slight injury, which the drones repair; afterwards, we start talking.
"I come from a parallel universe" Troi told me, "When I came through to this one, I had an encounter with the
Enterprise
. I'm determined to get my revenge. We shall go and assimilate them right now...especially that Deanna!"
This Borg Queen is very aggressive; a little headstrong, perhaps; no diplomacy. not the sort who would smile while assimilating someone.
"Hold on a moment!" I tell her, "I have one of my drones on there right now, providing an important function for the Borg."
"Drones are expendible!" Troi tells me dismissively, "The Enterprise must me assimilated NOW! It's clear that the Borg in this universe are far too week. What they need is a strong Queen like me to lead them. You can serve me."
I can't believe what I'm hearing.
"Are you challenging me, Troi?" I asked her, "May I remind you that
I
am the Queen here, and you have been rescued. You can't be that good a Queen if you had to get away in an Escape Pod after an encounter with the Enterprise."
She starts to look very angry; I can sense trouble here.
"The drones here will support me." Troi says, "They respect a good leader."
I look at the drones; they seem to like that figure-hugging outfit she is wearing.
I'm starting to worry.
To be continued...