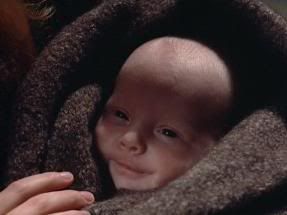 Guest Poster: Sheena
Mommy and daddy are all excited due to the impending visit of daddy's mommy and Captain Picard, who are coming to the Rhode Island to see them, and also to see how I've grown.
"Now Sheeena." Mommy says to me, "You are going to behave yourself aren't you? I want Beverly and the Captain to know what a well-behaved little girl I have. If you misbehave, I may have to consficate your spear, and I don't want to do that."
As I like playing with my baby amazon spear, it looks like I'll have to agree. Mommy drives a hard bargain!
---------
A few hours later, daddy comes into the room with two much, much older people. One is a redheaded woman, the other is a bald man who must be ancient...at least 5o years old.
The redhead is all smiles and runs over to my cot.
"How's my darling granddaughter!" she exclaims, as if I am going to reply in a long sentence. She grabs me out of my cot and throws me up in the air so high, I almost crash into the ceiling and go into the floor above.
"WEEEEEW!" the redhead says as she catches me on the way down, "Wasn't that fun?"
Actually, no it wasn't.
"I'm your grandmother Beverly." says the redhead to me, "But you can call me Bev when you learn to speak. I'm the mother of your daddy, Wesley."
She then turns to this very old man.
"This is Captain Jean-Luc Picard." Bev tells me, "He is responsible for the
USS Enterprise
. He's a very important man."
"You flatter me, Bev." the Captain says to her, while mommy and daddy are in the other room preparing food and drinks. he squeezes her and and the two quickly kiss.
"Jean-Luc!" Bev whispers, "What about Sheena?"
"She won't give us away." he replies, and they just manage another kiss before mommy and daddy walk back in.
"Enjoying it?" Mommy asks, and both Bev and the Captain quickly answer "Oh yes!"
I'm confused. If Bev is my grandmother, does that make Captain Picard my grandfather if they are romantically involved? I hope this is all explained to me.
----------
After drinks, the Captain comes over, and lifts up my spear.
"This is a fine baby spear, Karena." he says to mommy, "She'll be a real amazonian warrior princess in a few yeats time."
I want my spear back!
"SPEAR!" I call out in annoyance.
The four adults look at me an amazement.
"Sheena's said her first word!" mommy exclaims happily, "How appropriate that it was
spear
. What a young amazon we have here!"
The four of the celebrate with another drink, leaving me in my cot.
Personally, I don't see what the fuss was about!