"We need to maintain accuracy." insisted Admiral Harriman to me on the videophone, "This is why you, Commander Data and LaForge need to visit the tv film set."
"Is it really that important, sir?" I ask, "After all, the Galacta TV company are only making a science fiction tv series. Why should they want us three along as advisors to their pilot programme."
"It's important for Starfleet." Harriman insists, "The viewing public needs to know that care is being taken. We don't want them to think any errors they may see on
'Star Trip'
the tv series are what actually happens in real life. You'll be there to put the director right."
I kow there is no way I can get out of this, even though I said that we could have a problem if an alien race invades. He casually replies, saying Riker would be able to sort it out.
--------------
The three of us arrive on the set of 'Star Trip'. Everthing looks disorganised. Suddenly I hear a familiar voice.
"Hey, it's Captain Picard, that engineer with the cool shades and the robot!"
I groan, and turn around.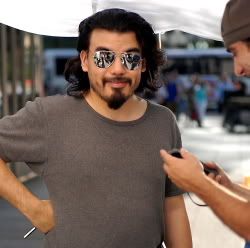 It's Steven Spolberg, the director who made a mess of filming on the
Enterprise
last month.
"Are you directing this television series, Mr Spolberg?" I ask, thoughh I know what the answer will be.
"I sure am, Captain." he answers, "We're gonna make a hit show that will shoot to the top of the ratings. Actually, we don't need you, but Starfleet insisted on having you around. What I saw around the
Enterprise
will get me through."
"We'll see about that." I reply, "What's the series about?"
"It's about a group of people on a starship." replies Spolberg, "Every week, they travel around the galaxy, and save everything from total destruction."
"Sounds familiar." comments Geordi, driely.
"Let's go meet the star of the show." Spolberg says, and takes us to a cabin with a force field around it Spolberg clicks the code.
"Enter!" says a voice.
We all go in and meet the 'star'., who is looking at himself consistantly in a mirror as we speak.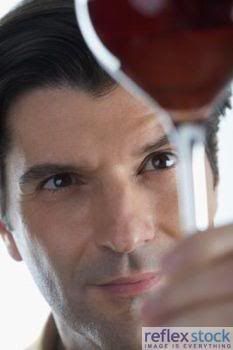 "This is Rick Ruddock." says Spolberg, "He will be playing the Captain of the
Pegasus
, Jack Jupiter."
"I'm sure you must be thrilled to meet me." Ruddock answers, "However I am not signing any autographs right now. It's imperative that I don't injure my hand."
"I've never heard of him." Geordi whispers in my ear. I indicate quietly that I never have either.
Ruddock goes back to looking in his mirror, and asks Spolberg who his first love interest is.
"It's J'Laya" Spolberg answers. Ruddock seems satisfied.
Spolberg informs us that it is written in Rick Ruddock's contract that he has a different woman to fall in love with every week, and that he has more lines to say than his other colleagues".
"That could cause some friction in the cast of actors." observes Data.
"Who cares?" Ruddock answers, "I'm the star!"
We leave the cabin. I make the point that it unrealistic for a Captain to fall in love with a different woman every week.
"That may be so, Captain." Data reminds me, "However in the 23rd Century, Captain James T Kirk had a different love interest every few days."
"You're right, Data." I reply, "However, we are here to see that this show looks realistic. Shooting starts tomorrow, so let's be ready for it."
To be continued...