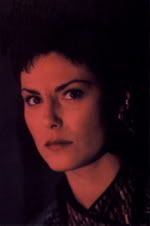 Guest Poster: Ro Laren
Ater a string of disasterous blind dates given to me by the
Interstellar Love Dating Agency
, I have been assured that my next date will be suitable. Somehow I have doubts about that. I started this because I failed to get a date at the
Enterprise
Valentine Ball.
Sometimes I think I must have a sign on me saying "If you are a loser, please date this woman." I'll have to check to see if it is there.
"Miss Laren." says Felicity on my videophone, "I have put the computer on maximum, entered all your qualities, and I can assure you that you next date will be the perfect match for you."
I am instructed to meet him at the
Superdeluxe Starfleet Restaurant
, where only the exclusive go. I must admit, this is starting to sound promising. I am wearing the red rose that is attached to my black
Rip'offe
designer dress.
As I am sitting at my table, one of those annoying Cardassians approaches me.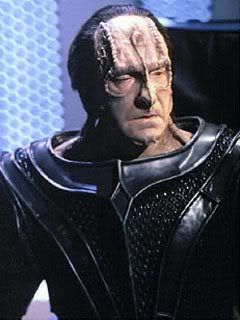 "Do you mind moving out of the way?" I say irritatingly, "I am waiting for my date and I don't want to be pestered."
"Miss Ro Laren?" he asks, "I am Vorak, your date from the
Interstellar Love Dating Agency
."
I wince. How can Felicity do this to me?
"Look, Mr Vorak." I say, "I'm a Bajoran, we're supposed to be mortal enemies, not going on a date together."
"It's not easy for me, Miss Loran." Vorak says, "I only just joined the Agency yesterday. We do have a peace treaty now, and..."
I snort with derision.
"I can't be seen here with you." I say, "If the Maquis saw me dating you, I would not get any Christmas cards and my annual Maquis Calendar and diary would be stopped."
"I think we both have problems, Miss Laren." continues Vorak , "We are very isolated in what we do. No one likes me as Cardassian representative here on Earth. I've been to this restaurant before and they keep me waiting for hours."
"I know what you mean." I reply, "Bajorans have always had a hard time."
-------
We have been waiting a while to be served.
"See what I mean?" says Vorak.
I get up, grab a waiter and drag him to our table.
"Right, buster!" I tell him forcibly, "I'll pretend that you couldn't see us sitting here for half an hour. What you will do is take our order. If the first course does not arrive in ten minutes, I shall order Starfleet to close this restaurant for a health-check on your kitchens."
"There is nothing wring with our kitchens!" he says snootily.
"That may be true." I reply, "But it would not look good on the
Superdeluxe Starfleet Restaurant
record, would it?"
The waiter scuttles off, and we enjoy our drink.
"Do you want to risk being seen with me, Miss Laren?" Vorak says with a smile.
"I think I'll take a chance, Vorak." I tell him with a smile, "And you can call me Ro."