Guest Poster: The Borg Queen
Now that the leader of the entire Borg race, the Alpha Borg Queen has arrived at the Conference, I can see that excitement is beginning to mount.
She has assembled herself in that showy manner. Our leader always insists on making a flashy entrance, just to show that she's the Number One Borg.
Personally, I don't like sucking up to the leader. It's far too demeaning on oneself. It's pathetic to see these minor Queens trying to curry favour with "What can I do for you, your Majesty etc?"
Yuk. Still I have to do it somewhat, otherwise with one sweep of her hand, I could be either in the Borg dole queue or taken apart for a science exam.
The Alpha Borg Queen notices me, and walks over, with her entourage following close behind.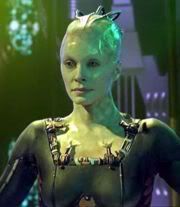 "Greetings, 01." she says politely, "How are activities on your Cube?"
"They are fine, thank you, your Majesty?" I reply meeky, "We managed to assimilate three races last week."
"Well done." she says, and moves on to the Troi Borg Queen, who looks like she is itching to say something.
"And how are you doing, 02?" she asks, "You are the Troi Queen from the other universe?"
"I am, your Majesty." she says sharply, "Our Cube assimilated nine races last week, which is a lot better than the human-loving 01 here, who is going soft!"
The air is suddenly filled with tension. This is not the sort of behaviour that usually happens in front of the Alpha Borg Queen.
"Go on, 02" our leader says.
"01 here." Troi says, as I look with a sneer, "Placed one of her drones, named Seven of Nine on the
Enterprise
starship instead of assimilating them. She has attended their Christmas parties, used her drones as waiters, piloted their ship, and is even thinking of redecorating her Cube in pastel colours and feng shui two drone designers named One of Two and Two of Two!"
"Indeed!" the Alpha Borg Queen says, but her face reveals no facial change.
"Yes." Troi continues, "I believe the 01 Cube Queen has gone too far in her relationship with humans, and that she is a friend of them. She forgets that the Borg are all conquering, unstoppable. We are Borg, resistance is futile."
"Quite so." our leader says to herself, then turns to me. "01, what do you have to say in reply to Troi's allegations?"
A bead of sweat appears on my brow. That doesn't usually happen.
"We can know our enemy best by researching them, your Majesty." I answer, "By putting my best drone, Seven of Nine on the
Enterprise
, I am gathering facts, secrets and information that it would be impossible to obtain by simply conquering them. Of corse we will assimilate them eventually, but only when we know all we need to, and their usefullness has ended."
"And the parties?" The Alpha Borg Queen inquires.
"It is all part of learning the habits of the humans. In this case, I decided to experience it myself, rather than wait for Seven's report."
A disgusted "Pah!" comes from the direction of the Troi Queen.
"You will be silent while I talk to 01!" The Alpha Borg Queen says to her. Everybody shivers, as they usually do when addressed firmly by her.
"Why are you designing your Cube in a different way to the standard set-up the the Borg use." she asks.
"Well, your Majesty." I reply, "The drones One One and One Two believe that those in the Cube will work at optimum efficiency if the workplace is more relaxing. A rest area for talking between shifts will also help."
"They are very interesting ideas." the Alpha Borg Queen says to herself, "Send the blueprints and design plans to my office. If I approve them, I may get all Cubes to have them fitted."
"I refuse to have them on my Cube!" the Troi Queen shouts.
"We can easily arrange for you not to have a Cube at all, 02!" our leader snaps back at her, "Is that what you want?"
"No, your Majesty." she replies demurely.
"Then be silent!"
The Alpha Borg Queen starts to walk away, then returns back to me.
"01" she asks, "Do you think you could get me a ticket for the next
Enterprise
Christmas party?"
"I'm sure that can be arranged, your Majesty." I reply.
"Excellent!" she answers, and walks off.
The Troi Borg Queen is in a sulk, and I'm a happy bunny!